Term 2, Issue No. 1 - 19 May 2023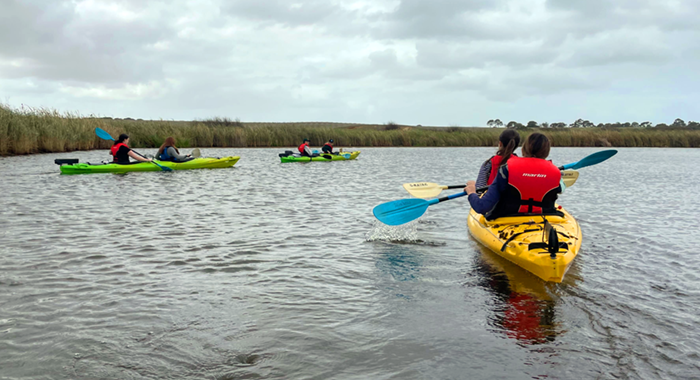 Senior Stories
Powerful learning inside and out
Deepening learning with unique experiences.
Infrastructure changes
In addition to educational opportunities our students have experienced recently that support positive, heathy choices, we have added an additional layer of protection at a structural level, with vape detectors now installed across our toilets and changerooms.
Thank you to those students and families who hav talked with us about concerns, appreciating that is a shared commitment we all have to provide an environment reflective of our values and expectations.
Students have received information about this from us, and I encourage conversations about this to continue at home.
---
Quality learning in outdoor environments
Our Year 10 Camp and Year 12 Retreat gave students experiences in demonstrating Responsibility and Loyalty.
Whether supporting peers by sharing cooking responsibilities, encouraging friends to take on new challenges, or building stronger connections through reflection and vulnerability, we are immensely proud of the approach our students took to these activities.
Staff supported students conducting these activities, and this effort certainly plays a large part in their success. Thank you to our families also for your support.
No doubt the learning that occurred in Week 1 will enable richer connections to curriculum in the classroom, and deeper relationships between students.
| | |
| --- | --- |
| | |
| | |
---
Mobile phones and technology at school
We continue to collaborate to provide learning environments that are distraction-free. As a reminder of our expectations on the use of technology, all Senior Students are reminded to keep mobile phones locked in their locker, have laptops fully charged for their studies, and use headphones or ear pods only under the direction of their teachers.
Staff are talkign with students about these expectations. With phones off while school is on, students will not be able to respond to family communications via mobile during the school day. If you need to message your child, please contact us by calling 8372 3200 and we will get it delivered from there.
Thanks for your support in helping us maintain positive learning environments.
---
Michael Francis
Head of Senior School
Feedback
We are committed to ensuring the Mercy Vine is an easy and pleasant experience for our readers. Please click here to provide us with your feedback.