Term 2, Issue No. 1 - 19 May 2023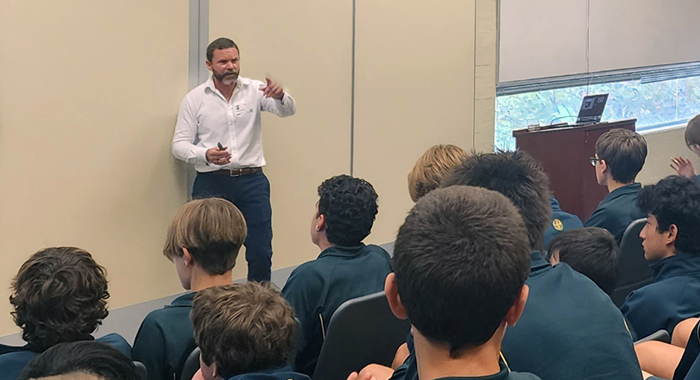 Middle Moments
Building resilience and compassion
In true Mercedes College fashion, this Term has been exciting for our Middle School students.
Guest Speaker | Dr Dan Pronk
Resilience is an important life skill that helps children to manage challenges and setbacks, and our Middle School teachers regularly offer strategies to build resilience and coping skills. Building on this, our Year 9s hosted Dr Dan Pronk for a presentation on resilience, its importance, and how to strengthen it.
Dan is an ex-Special Ops Doctor with more than 100 military missions, and was the resident medic on the hit TV Show SAS Australia. He's also a bestselling author.
"The Dan Pronk presentation taught us about the importance of resilience and overcoming challenges, and this was especially important in the lead up to our Year 9 Camp. Dan spoke to us about his time in the SAS programme, in the military as a doctor, and about the stressful situations that he encountered during this time. He explained how the right amount of stress is not bad for you, but instead optimises your experience."
"He also covered topics such as how you shouldn't doubt your abilities, how you are capable of so much more than you think, the importance of sleep, and the importance of a positive mindset. The presentation encouraged me to think about our upcoming camp with a more positive outlook and to embrace the stress that comes along with it."
Ava Barton, Year 9 Student Leader.
---
Brainstorm Productions
Our Year 8 and Year 9 students recently engaged with Brainstorm Productions, one of Australia's most experienced and respected educational theatre companies, to explore cyberbullying and mental health. As well as their thought-provoking presentations, Brainstorm provided strategies for resilience, guidance on seeking help, and discussed how to build and maintain positive relationships.
"The performance from Brainstorm Productions about cyberbullying and other issues that come up during adolescence was widely enjoyed by the cohort, and it was not only a fun performance to watch, but was relatable to a lot of people in the room. The performance taught us how to deal with cyberbullying and inspired us to help others if they are struggling."
Sam Doan, Middle School Leader
---
Uniform
Uniform expectations are a focus for us this year as we believe they promote a sense of community, and demonstrate pride in our College. It is important that students arrive at school each day dressed appropriately in full uniform, and so we're asking everyone to ensure they are meeting the uniform expectations and to communicate with us if this presents any challenges or concerns.
---
As always, our goal is to provide a safe and supportive learning environment where students can flourish. We appreciate the support of our families in helping us achieve. Thank you for your ongoing support and participation.
Ben Dray
Head of Middle School
Feedback
We are committed to ensuring the Mercy Vine is an easy and pleasant experience for our readers. Please click here to provide us with your feedback.