Term 1, | Issue No. 2 - 10 March 2023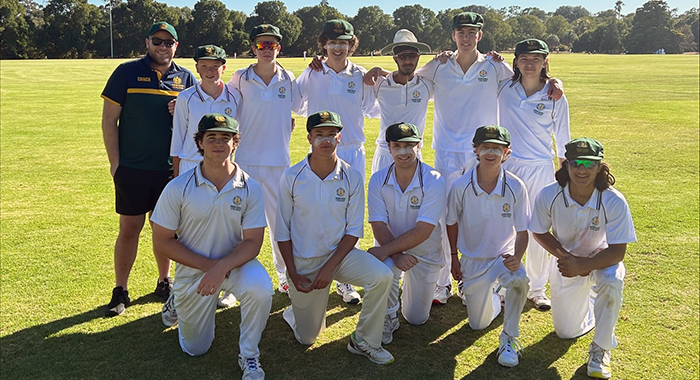 Good Sports
Sporting achievements
Welcome back to Mercedes College Sport for 2023!
Hoping you're as excited as we are to get back into sport at Mercedes College, with teams this season with girls and boys team across 4 summer sports. The girls have 2 teams in Water Polo, 4 in Basketball, 6 in Volleyball, and 8 in Touch Football, and the boys have 2 teams in Water Polo, 6 in Volleyball, 1 in Tennis, and 4 in Cricket.
There are also 8 Tennis teams in the Southern Districts Tennis competition (which began October 2022) and we're thrilled to see 7 of these teams competing in the upcoming finals; a huge effort -- good luck!
We are both looking forward to continuing the development of sport at Mercedes College, particularly watching as more students join sport each Term. The winter sport season is fast approaching and more information will go out on Stack TeamApp over the coming weeks, so stay tuned!
---
Student Achievements
We love celebrating participation and the successes of our athletes, and we're off to a stellar start in 2023.
Our swimming team blew the competition out of the water at this year's Catholic Co-Ed Swimming Carnival, winning 5 age group shields: 13 and Under, 14 and Under, and 15 and Under Girls, and 16 and Under and Open Boys. A special mention has to go to Claire Dewar, Isobel Black, Isobel Langman and Madison Childs, who smashed the 13 and Under Girls Freestyle Relay by a whopping 7 seconds.
Summer Hudswell (Year 10) has been selected to participate in the South Australian Sports Institute (SASI) Talent Development programme for rowing. Summer was actually selected for 4 different sports after participating in SASI's talent search last October, but it was rowing that that won her over. SASI's talent search programme identifies high school aged students that have the potential to represent Australia in Olympic and Paralympic sports, so we're looking forward to following Summer's future on the water!
Ava Barton (Year 9) won bronze for the Heptathlon in the 2022-23 State Multi Championships in January. She is bound to be a huge asset for Dalton House in their athletics for years to come.
Charlotte Devey (Year 10) and Saskia Kellaway (Year 8) have been selected in their respective age group for State Water Polo and will be competing at the National State Water Polo Championships later this year. Saskia and Charlotte both play Water Polo for the College in the Open A competition and show great leadership in and out of the pool.
Claire Warburton (Year 12) has been selected to represent School Sport SA at the School Sport Australia 18 and Under Girls Softball Championship to be held in Werribee, Victoria, from Saturday 13 to Friday 19 May 2023.
William Mathwin (Year 11) put in a great effort at the recent School Sport SA Cycling Championships, whilst Oliver Dixon (Year 9), Ava Barton (Year 9), Maggie Robinson (Year 7), Christian Whitwell (Year 10), Max Swift (Year 8), and Hayley Fuss (Year 8) competed commendably at the recent Athletics SA State Track and Field Championships.
Special mention also to old scholar Jessie Grenvold (Class of 2000), our talented Open A Netball coach, who has been selected as a training partner for the Adelaide Thunderbirds!
Sporting achievements can be shared with us via SEQTA or phone so we can celebrate their successes with the College community -- and plesae include a photo.
---
Stack Team App
Keeping up to date with your child's teams, fixtures, training information and any last minute changes is easy with Stack Team App.
Find 'Mercedes College Girls' Sport' and/or 'Mercedes College Boys' Sport' and 'Access Groups' for any sport relevant to your family.
Download the free app now for Apple iPhone, or Android now.
---
Attendance | Training and games
Student attendance is compulsory at all trainings and games.
If unable to attend a training or game day commitment plese inform your coach before training starts, or with at least 24 hours notice (where possible) before a game. You can find the contact number for your coach on Stack Team App under 'Training/Coach Information'.
---
First Aid
Student medications (including puffers and epi-pens) must be clearly labelled and provided to coaches prior to training and games so they are easily in reach if needed.
---
Sports ESOs
Welcome back Matt Smith after a year of leave, joining our second Sports ESO, Amanda Langton. It's great to have Matt's 20 years of knowledge and enthusiasm back on campus with us.
---
Josh Archer and Tamae Ninos
Sports Coordinators
Community safety | everyone's responsibility
Keeping children safe is the responsibility of everyone in our community.
Please talk with your children about how they can stay safe when out and about, including what to do (and not do) if they are approached by someone they don't know.
If approached by someone unknown and unwelcome, children are advised to keep walking/moving, not engage in conversation, and to never accept an offer for a ride or gift.
If they feel unsafe they can also seek the assistance of other nearby and trusted adults, as well as make a formal report to police.
South Australia Police suggest that if children are approached by someone unknown and unwelcome, that they use their mobile phone - if they have one - to call police if anything about the interaction "doesn't feel right".
Reports about suspicious activity can be made to:
Feedback
We are committed to ensuring the Mercy Vine is an easy and pleasant experience for our readers. Please click here to provide us with your feedback.