Term 1, | Issue No. 2 - 10 March 2023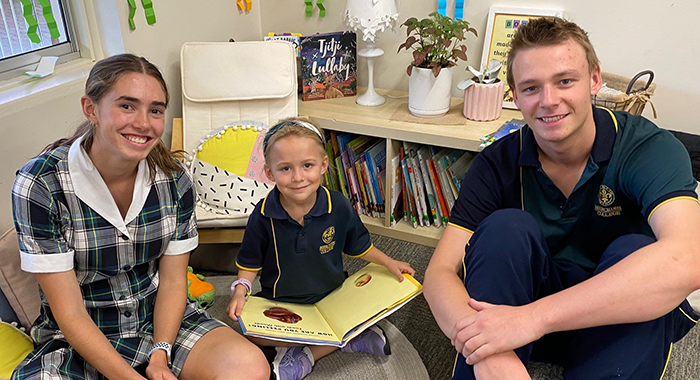 Senior Stories
Starting Senior School with confidence
Senior leaders shine at events and prepare for a big year ahead
The year has started strong for our Senior School, and I have no doubt that their early enthusiasm will carry them through for a very successful 2023.
Our Senior School leaders have already taken to their roles with confidence, ably assisting with the Shrove Tuesday launch of Caritas Australia's Project Compassion, Ash Wednesday Liturgy, as well as welcoming new families to tour the campus. Our seniors also stepped up and modelled fantastic school spirit, sportsmanship, and friendly competition at both their Swimming Carnival and Athletics Carnival (the tug-of-war was a particular highlight for me).
Recently our Mock Trial participants faced their first challenge and came out with the win. They will now compete in the next round of trials and we wish them the best of luck.
One of the highlights for many Year 12 students is the connections they make with buddies from the Junior School, and those relationships kicked off with many smiles and games. During possibly the most stressful years of their schooling, the buddy programme is an opportunity to decompress and embrace their inner child again, playing uninhibited with those who know how to do it best.
| | |
| --- | --- |
| | |
For International Women's Day our senior leaders were invited to a breakfast with our Principal, Deputy Principal and Director of Mission to watch the live stream of Adelaide's International Women's Day event, DigitALL: Innovation and technology for gender equality. After listening to an enthralling conversation with Ambassador Caroline Kennedy, U.S. Ambassador to Australia, students shared their insights and hopes for the future, and acknowledged the power of one person making positive change; the ripple effect it can have on peers and the wider community. We look forward to seeing them put their learnings into action throughout the year.
Michael Francis
Head of Senior School
Community safety | everyone's responsibility
Keeping children safe is the responsibility of everyone in our community.
Please talk with your children about how they can stay safe when out and about, including what to do (and not do) if they are approached by someone they don't know.
If approached by someone unknown and unwelcome, children are advised to keep walking/moving, not engage in conversation, and to never accept an offer for a ride or gift.
If they feel unsafe they can also seek the assistance of other nearby and trusted adults, as well as make a formal report to police.
South Australia Police suggest that if children are approached by someone unknown and unwelcome, that they use their mobile phone - if they have one - to call police if anything about the interaction "doesn't feel right".
Reports about suspicious activity can be made to:
Feedback
We are committed to ensuring the Mercy Vine is an easy and pleasant experience for our readers. Please click here to provide us with your feedback.