Term 4, Issue No. 1 - 11 November 2022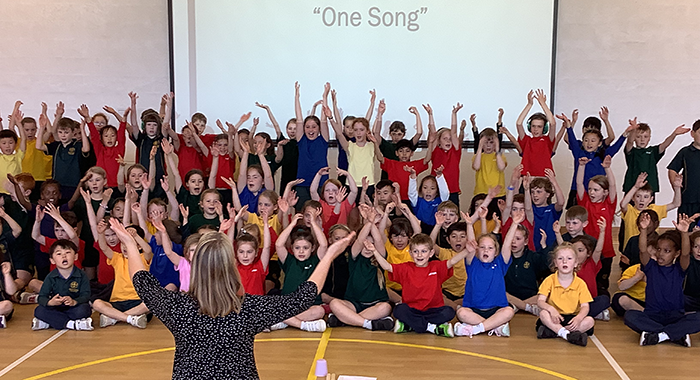 ARTStanding
Mini Musos and Singin' in the Rain
From our tiniest performers to our most 'dramatic'
Mini Musos
Our miniest of musicians presented their annual Mini Musos concert recently, performing a variety of pieces with great enthusiasm; they were all wonderful risk takers. Thank you to families who were able to attend and support our Receptions, Year 1 and Year 2 students in this special event.
Student reflections:
"I liked watching people perform because it was entertaining and I liked the soloists." -- Alice, 2NM
"My favourite thing about the Mini Musos concert was singing in Petites Voix." -- Sebastian, 2NM
---
Singin' in the Rain Jr
There's still time to get your tickets to the Year 8 Musical: Singin' in the Rain Jr, a musical comedy filled with colour, energy, and all the glamour of Hollywood in the roaring 20s.
Our Year 8 cohort has been working together tirelessly to create backdrops, props and costumes, design posters and programs, learn the art of backstage management and, of course, rehearsing the show!
Secure one of a handful of tickets left to the evening shows or, if your based at home during the day, why not book for the matinee - what a fantastic way to spend your lunch break!
Lina Lamont and Don Lockwood making their latest period drama in the silent film era, but it all goes wrong when Hollywood introduces the 'talkies'...
Singin' in the Rain Jr
Goodwood Theatre
Tuesday 22 November, 7pm to 8pm
Wednesday 23 November, 1:30pm to 2:30pm
Wednesday 23 November, 7pm to 8pm
Tickets:
Adults $16.50
Students $11
Click here to book your tickets today.
---
Rebecca Pfitzner and Sandy Lee
Junior School Music Leader and Drama Key Teacher
---
Feedback
We are committed to ensuring the Mercy Vine is an easy and pleasant experience for our readers. Please click here to provide us with your feedback.