Term 4, Issue No. 1 - 11 November 2022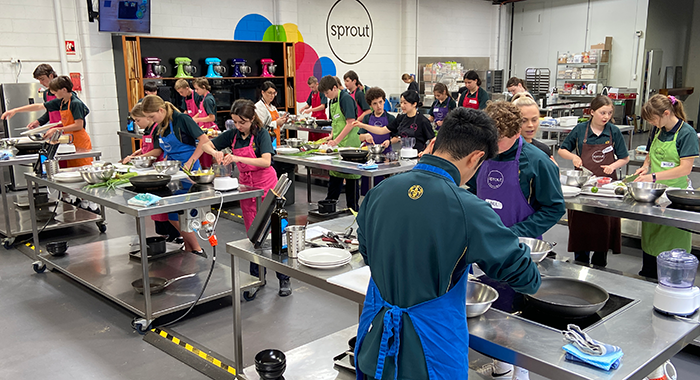 Middle Moments
Middle mash-up
Cooking, creativity, getting out of the classroom, and building leaders
Welcome to Term 4 where we intend to finish the year on a positive note.
As we all prepare for end of year activities, and the excitement of a looming holiday season builds, it is important for students to maintain their positive attitudes to successfully completiing their studies. Focus now will have them finish the year and be in a great position to begin 2023 - and we are confident that they'll find this success.
---
Year 8 Sprout Cooking
As part of their Growth and Personal Skills Programme, our Year 8 students have developed a deeper understanding of healthy eating and safe cooking practices, including a hands on experience at Sprout Cooking School!
Our Year 8s were put to the test with the preparation of healthy, fresh, and tasty meals, with skills 'sprouting' in the kitchen.
Reflection from class 8KY
"Each Year 8 class was lucky enough to spend a day at Sprout Cooking School as part of our 'Life Skills' focus in GPS. We learned about kitchen safety and cooking techniques and were then 'let loose' in the kitchen to prepare (and eat!) three different meals, including corn fritters topped with salsa, guacamole, and feta, tandoori chicken with flatbread and green salad, and a poached pear and cinnamon cheesecake. Apart from the food, some of our highlights included being 'hands-on', spending time with friends, learning about nutrition, and just generally cooking delicious food with our mates."
---
Week Without Walls | Year 6 and Year 7
While disappointing that our Year 6 and Year 7 students didn't get to Canberra Camp this year, a Week Without Walls has helped make it up to them.
Both Year 6 and Year 7 students have been experiencing a Week Without Walls through a series of fun and interesting incursions and excursions that get them out and about learning.
Year 6 students have been immersed in digital technology, visited Parliament House and the Adelaide Botanic Gardens, experimented with science, and run wild at AFL MAX,
Year 7 students turned to robotics, visited Adelaide Zoo and the Adelaide Museum, and explored the Memorial Walk - plus more.
Student reflections:
"At parliament house we looked at who was in charge, and what the different roles in court were, and we even did a realistic court case."
Mabel Hille and Jensen Marold (Year 6)
"I enjoyed the flag football tournament."
William Catanari (Year 7)
"The egg drop challenge was fun. We liked naming our egg!"
Lucy McConnochie (Year 7)
"My favourite thing was the massive soccer game at recess and lunch."
Alex Wiltshire (Year 7)
"I liked all the design challenges."
Lucas Mazzone (Year 7)
---
Middle School Leaders
The process for assigning 2023 Middle School leadership positions is underway. Students interested in these positions have lodged a written application and attended an interview with a staff selection panel. Shortlisted students are now preparing a speech to deliver to their peers, outlining their intentions for the role and how they could positively support the College.
Regardless of the results, I am sure all participants have gained new skills and useful knowledge to use in the future.
Appointments of our 2023 Middle School Leaders will be announced in our next Mercy Vine.
---
Suns out – Hats on
Now that the sun has finally arrived (mostly) and the weather is warming up, I offer a timely reminder for students to wear their College hat when not under cover, regardless of the temperature or weather conditions. We will continue to remind and encourage students to be sun smart, so please help us reinforce the importance of protecting skin from the harmful effects of the sun too.
---
Ben Dray
Head of Middle School
Feedback
We are committed to ensuring the Mercy Vine is an easy and pleasant experience for our readers. Please click here to provide us with your feedback.