Term 4, Issue No. 1 - 11 November 2022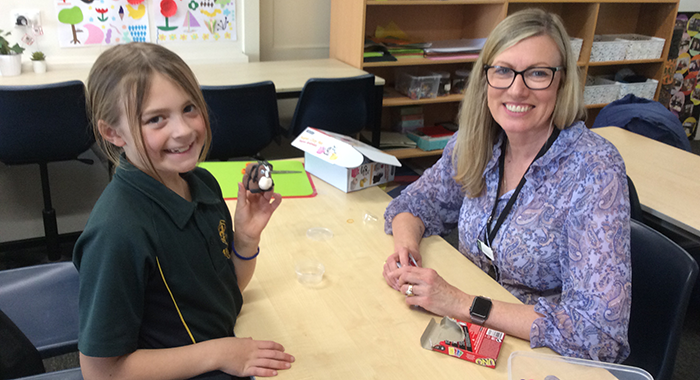 Community Links
Building strong connections through mentoring
The Student Mentoring Programme (SMP) at Mercedes College fosters a strong sense of community between students and mentors, and across the three schools with the help of our Year 12 cohort. As the 2022 programme winds down, we share some reflections from our mentors.
"I have a soft spot for the Student Mentoring Programme! My working career at the College began in the programme (then known as the Learning Assistance Programme) and I was very fortunate to work with its founder, Penny Penhall. Penny was someone who walked the talk; she was a wonderful role model and gave her all to care for all the children and volunteers in the program.
Now, as it was under Penny's guidance, the programme is about students having the opportunity to develop one-on-one relationships with a volunteer. This is not only to support learning outcomes, but focuses on the wellbeing, social, and emotional needs of students." -- Debbie Goss
"Throughout 2022 participation in SMP has been a rewarding and fulfilling experience. Being in the unique position of working with various students in my roles with OSHC and as an ESO, the opportunity to foster a connection through one-on-one sessions with a student during Mentoring is an experience I value. These sessions are substantial for the development of student -self-confidence, wellbeing, and individual interests/personality, whilst giving them the opportunity to have a break from the classroom and a bit of fun." -- Toby Plate
"Working at OSHC as an Educator has allowed me to interact with so many students over the years and it has been so rewarding to connect with some of them in a Mentoring capacity and see first-hand what a positive impact SMP has." -- Anna Cernev
"Working at Mercedes OSHC as well as participating in the Student Mentoring Programme is great as they complement each other regarding building relationships with children. My experience in OSHC has opened the door for me to refine my skills through SMP. Both areas within the school can be challenging yet are extremely rewarding, and I believe OSHC and SMP allow for both students and educators/volunteers to learn more about themselves and others.'" -- Sophie James
If you would like to be part of the Student Mentoring Programme in 2023, please email me for more information.
sheuzen@mercedes.catholic.edu.au
Stephen Heuzenroeder
Student Mentoring Programme Coordinator
Feedback
We are committed to ensuring the Mercy Vine is an easy and pleasant experience for our readers. Please click here to provide us with your feedback.