Term 2, Issue No. 2 - 10 June 2022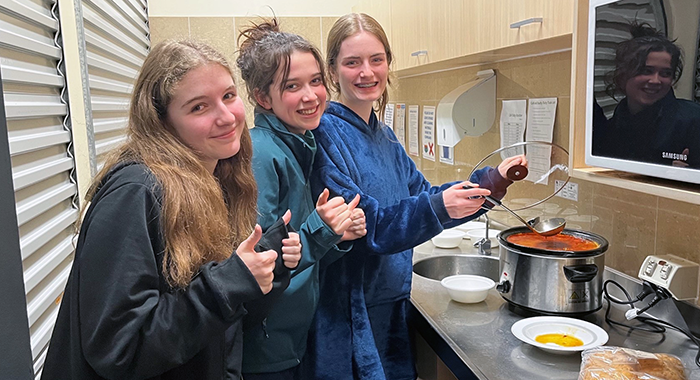 MP&FA
Funded, delivered and loved
Supporting our students
Through last year's annual appeal the Mercedes Parents and Friends Association raised $20,000 for the refit of the outdoor Year 12 Café. Now complete and being used daily by students set to graduate this year, this outdoor space includes a new filtered and boiling water tap, coffee machine, and microwaves.
Enabling greater independence supports students as they transition from school into university or work, with senior students able to enjoy a more casual café style environment where they can spend time together in a relaxed atmosphere.
This space includes new outdoor furniture and paving that improves amenity and functionality – and not just for students. During this week's run of the drama production Hoods, the Mercedes College Friends of the Arts Committee (FOTA) used this space to cater for the cast and crew, further demonstrating the value of investment into college facilities.
FOTA aims to increase awareness and appreciation of the arts at the College, but is also about helping in a practical way. Providing food and nourishment each night for the senior drama production was a wonderful way in which FOTA could show support.
This space, which our senior students want to spend time in, strengthens a greater sense of belonging and student pride. By being responsible for the use and care of this space our senior students also learn to be accountable.
Thank you to everyone who contributed to raising funds for this project in 2021, and to the facilities team for project managing delivery. Students for many years to come will directly benefit from this project, as will the wider community.
Thanks for your support in 2021, and we hope you'll also support the 2022 Annual Appeal.
Feedback
We are committed to ensuring the Mercy Vine is an easy and pleasant experience for our readers. Please click here to provide us with your feedback.