Term 2, Issue No. 2 - 10 June 2022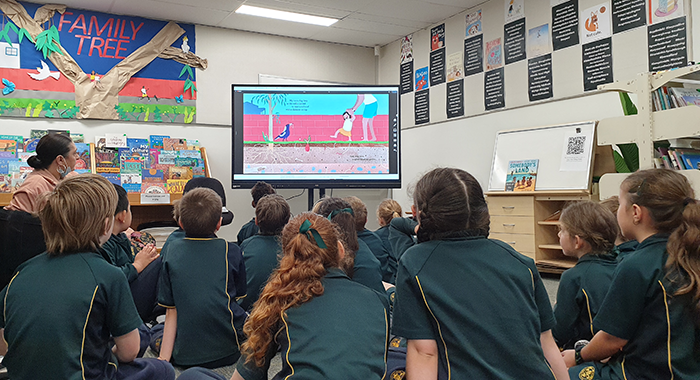 Junior Journeys
Developing and celebrating the whole child
Values-based learning
It's hard to believe that we're halfway through a term filled with exciting units of inquiry, guest speakers, year level Masses, NAPLAN assessments, local excursions, sports fixtures, debating successes, Craft Club and more! It seems an appropriate time to reflect upon the goal of education; what is the ultimate purpose of the diverse activities and learning experiences that are offered in our Junior School?
The Primary Years Programme (PYP) focuses on developing the whole child. Inquiries help our students build strong foundations in literacy and numeracy, whilst also advancing honesty, integrity, teamwork, empathy and resilience. The wide range of opportunities and experiences outside the classroom at College, such as choir, weekend sports or social justice initiatives, also fosters these attributes. We want each of our students to be the best versions of themselves; to be young people who are able to manage setbacks and challenges, and be emotionally and socially intelligent world citizens who can make a meaningful difference to their world.
In these final few weeks of Term 2, let's continue to encourage and inspire multiple intelligences in our children, motivating them to develop musical, mathematical, interpersonal, linguistic, intrapersonal, naturalistic, kinaesthetic, spatial and existential intelligences and, equally, the values of the Mercy Keys and learner profile attributes, which inform who they are now and will be as they grow, develop and learn.
---
Safe and Responsible use of technology
Use of technology in the Junior School is all about balance, moderation and the correct time and place. I believe that when use is measured, carefully considered, creative and constructive, amazing learning outcomes are possible.
Recently I was reviewing the work of cyber safety expert Susan McLean, who has visited the College previously. Susan has a great Facebook site, is a strong speaker and advocate for cyber safety, and is also a published author. Susan has great knowledge to share about cyber safety and supporting safe, responsible and intentional use of technology.
The following guidelines taken from Susan's advice can help you guide children to make sensible decisions about technology use.
We encourage parents to make decisions with their wisdom and life experience when it comes to how and when their children should use and explore online worlds.
Parents should ensure that:

They define a clear physical space for their child's learning that is well lit and is a public/family space; not a bedroom.
They regularly check in with their son or daughter to provide support.
Their children do not have screens (iPads, mobile phone etc.) in bedrooms after lights out.
Online social media sites such as TikTok, Facebook, Instagram, Snapchat and Twitter are restricted to children 13 years and older. These sites won't admit users whose date of birth identifies them as younger.
Children never engage in online exchanges with someone they don't physically know.
Children never share passwords with anyone except their parents. Parents need to monitor, support and guide online use as children do not always have the emotional and social maturity to enable good choices. The digital world is unforgiving of mistakes that can have significant and ongoing ramifications.
Children know that everything posted online leaves a 'digital footprint' and is accessible forever.
All internet enabled devices are kept out of bedrooms.
They set reasonable limits for online time that are age appropriate and of a defined period. If completing homework using a device, then use the class teachers' homework guidelines and timing to determine appropriate limits.
If phones/ smart watches are needed for logistics of travel, use a phone that is not internet enabled and doesn't have the capacity to take photos.
I would also recommend Netflix documentary, The Social Dilemma. It gives provocative insight into the use of social media and highlights why our students should not be accessing this medium when their capacity for mature judgement is not fully formed. We also encourage access to the eSafety Commissioner website as there is a specific section for parents.
I know that at both school and home we want our students to be supported and encouraged to use technologies safely.
---
National Simultaneous Storytime
On Thursday 26 May we celebrated National Simultaneous Storytime (NSS) in the Junior School.
NSS is an annual event that has been held since 2000 and is organised by the Australian Library and Information Association. Every year a picture book by an Australian author and illustrator is read simultaneously across Australia in schools, libraries, childcare centres, homes and bookshops.
This year over two million students read Family Tree, written by Josh Pyke and illustrated by Ronojoy Ghosh. Videos of readings by VIP guest readers, including Australian Children's Laureate Gabrielle Wang, Josh Pyke, and Governor-General David Hurley and Mrs Linda Hurley, were available, as well as an AUSLAN version.
We celebrated NSS in classrooms and together in the Library. Our students enjoyed finding interesting details in the illustrations and relating the story to their own families.
---
Personal responsibility
In recent weeks we have continued a conversation about the Mercy Key of Responsibility. This is a broad concept and encompasses a range of different traits: being trustworthy and dependable, keeping your word, trying your best, being accountable for your actions, and seeking to make a meaningful difference to your community. In the Junior School, our students demonstrate these traits on a regular basis as they share, promote and explore ideas, identify issues and seek solutions. In doing so, they show compassion, care, wisdom and understanding well beyond their years.
We often discuss the many and varied responsibilities that we have within the College, our local community and the wider world. It is wonderful to see, in line with the International Baccalaureate mission to foster a global outlook and community-mindedness, that this desire to make a meaningful difference and to take action is ingrained within our children - they are outward-looking, caring, principled and keen to have their voices heard to be active decision-makers. Our students demonstrate their responsibility on a daily basis, whether it be a lesson as a class to discuss the direction of their Unit of Inquiry or supporting a social justice initiative such as our current St Vincent de Paul Winter Appeal.
The wonderful author, Charlie Mackesy encapsulates this sentiment perfectly: despite their small stature and young minds, our children are capable of making a huge difference in this world. We want to always listen to our students' perspectives and support them to turn their ideas and suggestions into reality. This will allow them to be powerful agents of change determined to shape our world into a better place on a daily basis.
Kellie Osborn
Head of Junior School
Feedback
We are committed to ensuring the Mercy Vine is an easy and pleasant experience for our readers. Please click here to provide us with your feedback.