Term 2, Issue No. 2 - 10 June 2022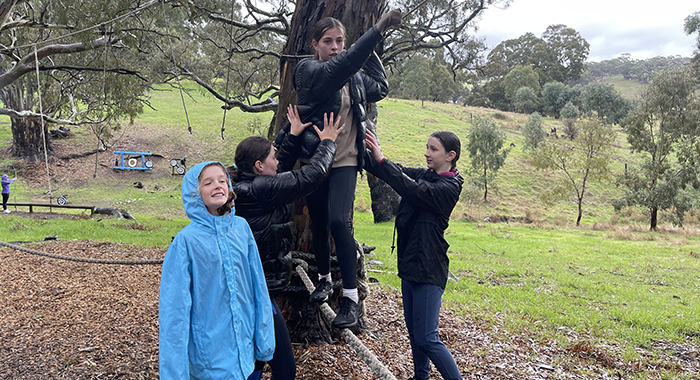 Middle School News
Camps dominate the Middle School
Challenges and achievements making lasting memories
The recent Year 9 Camp to the Flinders Ranges provided students and staff with an opportunity to get back to nature and experience the outdoors. The focus of the camp was to increase resilience and step out of our confort zone. There is no doubt that the Year 9 camp is challenging, as the students do not have the creature comforts they are used to.
Year 9 Camp reflection
By Student Leaders Sam Glasson and Gina Barreto
In Week 4 the Year 9 cohort went to the Flinders Ranges. We arrived at school at 6:30am and hopped on a bus, then travelled for five hours passing through towns such as Port Pirie, Modbury and Port Wakefield. After the bus ride we arrived at Alligator Lodge where we split into our different groups and started our expedition. Over three days we travelled along rocky ridges and difficult terrain and, unlike the luxuries we usually get at home, we had to carry everything on our backs, supply and cook our own meals on a Trangia, and treck many kilometres across the Flinders. Our durability was truly tested.
In total we walked nearly 43km over three and a half days. The camp was uniquely challenging for everyone, including our teachers. Whether no sleep, tenting problems or trying to cook food properly, we all encountered difficulties that took us out of our comfort zones and made us stronger, more resilient people. We were also grouped with people that we didn't always hang out with, and were lucky to meet new people in an environment much different to that of school.
At the end of the camp, we were all very happy to be treated to a bakery lunch at the Crystal Brook Bakery on the way home.
We would like to take this opportunity to thank our dedicated teaching staff for providing such an amazing life experience that we will never forget.
After a few failed attempts, the Year 6 cohort finally got to attend their camp in Wirraway. Although the conditions were not necessarily favourable, the students loved the opportunity to engage with peers and teachers outside of the classroom.
Year 6 Camp reflection
By Students Benny Gray and Amelia Ciplys.
For the first three days of the week the Year 6 cohort were lucky enough to go to Wirraway Homestead for camp. Despite the cold, wet weather, we all had a great time. Some of the highlights of the camp included the in-ground trampolines, archery, sheep herding, and night hike. The food was great and the Wirraway staff were lovely. We particularly enjoyed horse riding and getting to mix with people from different classes.
Overall, it was a very successful three day camp, and good preparation for our week-long Canberra trip later in the year. Our special thanks go to Mr Carosi for all of his work to make the camp happen, and to the Year 6 teachers, and Mr O'Connell, Mr Wray and Mrs Karlovic who were a fantastic help.
---
Uniform
In keeping with a long tradition of excellence and respect, all students attending Mercedes College are expected to proudly wear their school uniform. As Mercedes College has a well established reputation our students are readily identifiable in the wider community.

As representatives, our students are expected to be well groomed and wearing the Mercedes College uniform:
to and from school,
during the school day,
when participating in school sport, and
at formal school functions.
The College will be ensuring that all students are wearing their uniforms correctly, particularly their:
blazers to and from school,
shirts tucked in,
ties correctly knotted, and
PE uniform only worn when practical lessons are scheduled.

The uniform requirements are available online, with items available from The College Shop and Second Hand Uniform Shop.

Thank you for supporting your child/ren to wear their uniform with pride.
Benjamin Dray
Head of Middle School
Feedback
We are committed to ensuring the Mercy Vine is an easy and pleasant experience for our readers. Please click here to provide us with your feedback.