Term 3, Issue No. 2 - 2 September 2022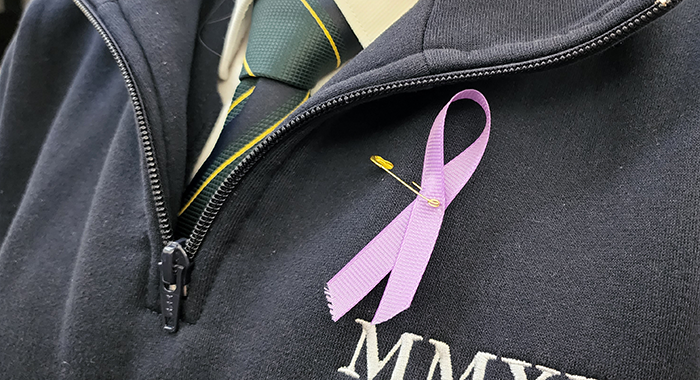 Wellbeing and learning enrichment
Our commitment to inclusion
Sharing a message of respect, love, care and inclusion for all.
Wear It Purple "strives to foster supportive, safe, empowering and inclusive environments for rainbow young people"; themes that are entirely consistent with our Safe School Policy encompassing all members of the Mercedes College community.
Friday 26 August was National Wear It Purple Day with the theme "Still Human, Still Me"; a day to celebrate and support young LGBTQIA+ people and, in so doing, help to shape a better world for us all. The Social Justice Leaders worked proactively and respectfully to raise awareness and understanding through prayer and provided an opportunity for staff and students to wear purple ribbons and other items as signs that Mercedes College strives to be safe, supportive and inclusive.
An array of purple lapel ribbons, hair ties, socks and staff apparel provided authentic evidence that, as avowed in our Safe School Policy, Mercedes College "encourages the active participation of all school community members in developing and maintaining a safe school community where diversity is valued".
Fittingly, Sunday 28 August was Social Justice Sunday when, as Catholics, we were called to show respect, care and love for all humanity and confront everyday violence and abuse.
The antithesis to these themes is the recent traction gained by former UK reality TV personality and social media influencer, Andrew Tate. Via Twitter, Facebook, Instagram and Tik Tok, Tate has spread misogynistic, racist and homophobic video messages, particularly among boys and young men.
Thankfully these platforms have now banned Tate for breaches of policies on dangerous organisations and individuals. While this action is applauded, sadly many impressionable young men, some viewing unsupervised, have already engaged with these messages of hate. This includes some of our own students, who have been exposed to content which runs counter to our Catholic beliefs expressed through our Mercy Keys, in particular Compassion and Mutual Respect.
Now more than ever, our young people need to hear, see and understand through our collective words and actions, that we are all made in God's image and hence deserving of respect, love, care and inclusion. We encourage staff and parents to directly challenge, and correct Tate's messages.
Anne Way
Director of Wellbeing
College Psychologist
Monday 26 September | Beginning of Mercy Week
Friday 30 September | Mercy Day Mass
Feedback
We are committed to ensuring the Mercy Vine is an easy and pleasant experience for our readers. Please click here to provide us with your feedback.