Term 3, Issue No. 2 - 2 September 2022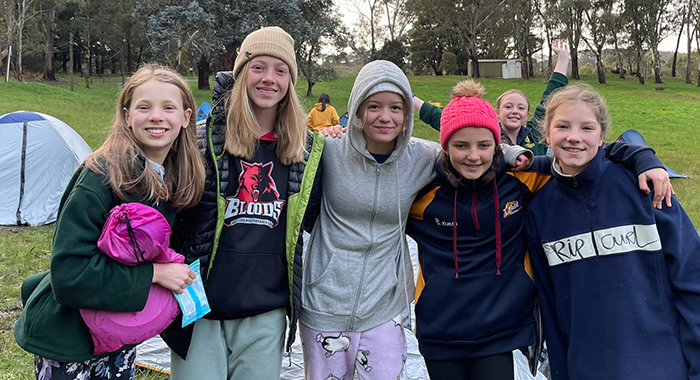 Middle School News
Learning outside of classrooms
Middle School students have been busy off campus.
Year 7 Camp
With revised timelines for camps this year, our Year 7 Camps saw students brave the elements at Woodhouse. Activities included the giant tube slide, rope swings across a creek, obstacle courses, and mountain bike riding.
All activities required teamwork, confidence and huge amounts of resilience, especially in the winter weather conditions. Congratulations to our Year 7 students for being exhilarating confidence builders. Participating in camps is fun, and a great learning experience that equips students with the capacity to cope with the challenges of life.
Below are some student reflections on their camp experience:
"It was great to be able to spend time with our friends in our individual tents."
Ruby Dowd
"I really enjoyed the team building initiative activities."
Samuel Witt
"My favourite bit of the Camp was having the opportunity to sit around the camp fire, engaging in the fun activities, as well as learning to cook damper."
Hugh Harris
---
Intercollegiate Competition
Last weekend was a wonderful experience for the College as we embarked on the 18th annual Intercollegiate Competition against St Ignatius' College.
It was fantastic to see so many Middle School students attend the various events to support the College. There was also a great representation from a number of Middle School students competing in Open Teams across various sports, displaying loyalty, courage and integrity. Well done to these students; these opportunities will support them as they continue to compete and represent the College in future years.
---
Yr 6 Reflection Day
Recently our Year 6 students participated in their Reflection Day. Below is a reflection from student Amelia Ciplys.
"On Friday 19 August, the Year 6s went to a local monastery for our Reflection Day. Our first activity was painting rocks with words and symbols. The second activity we did was a countries game, where we were put groups of six and received a package. The aim of the game was to make the most money by making shapes with the resources in the package exactly to the correct dimensions, then trading them with the teachers for money, however not all groups were given the same amount of resources. For the third activity we did a role play of the Good Samaritan. Finally, we ended the day with a liturgy.
I think Reflection Day was a great way to reflect on the Term and ways we could improve ourselves as individuals. Everyone had a great time and enjoyed meeting and socialising with the others in a different environment."
---
Father's Day
On behalf of the students in the Middle School, I would like to extend my best wishes to all the fathers in our College community, and I wish you all a wonderful Father's Day this September.
---
Ben Dray
Head of Middle School
Monday 26 September | Beginning of Mercy Week
Friday 30 September | Mercy Day Mass
Feedback
We are committed to ensuring the Mercy Vine is an easy and pleasant experience for our readers. Please click here to provide us with your feedback.