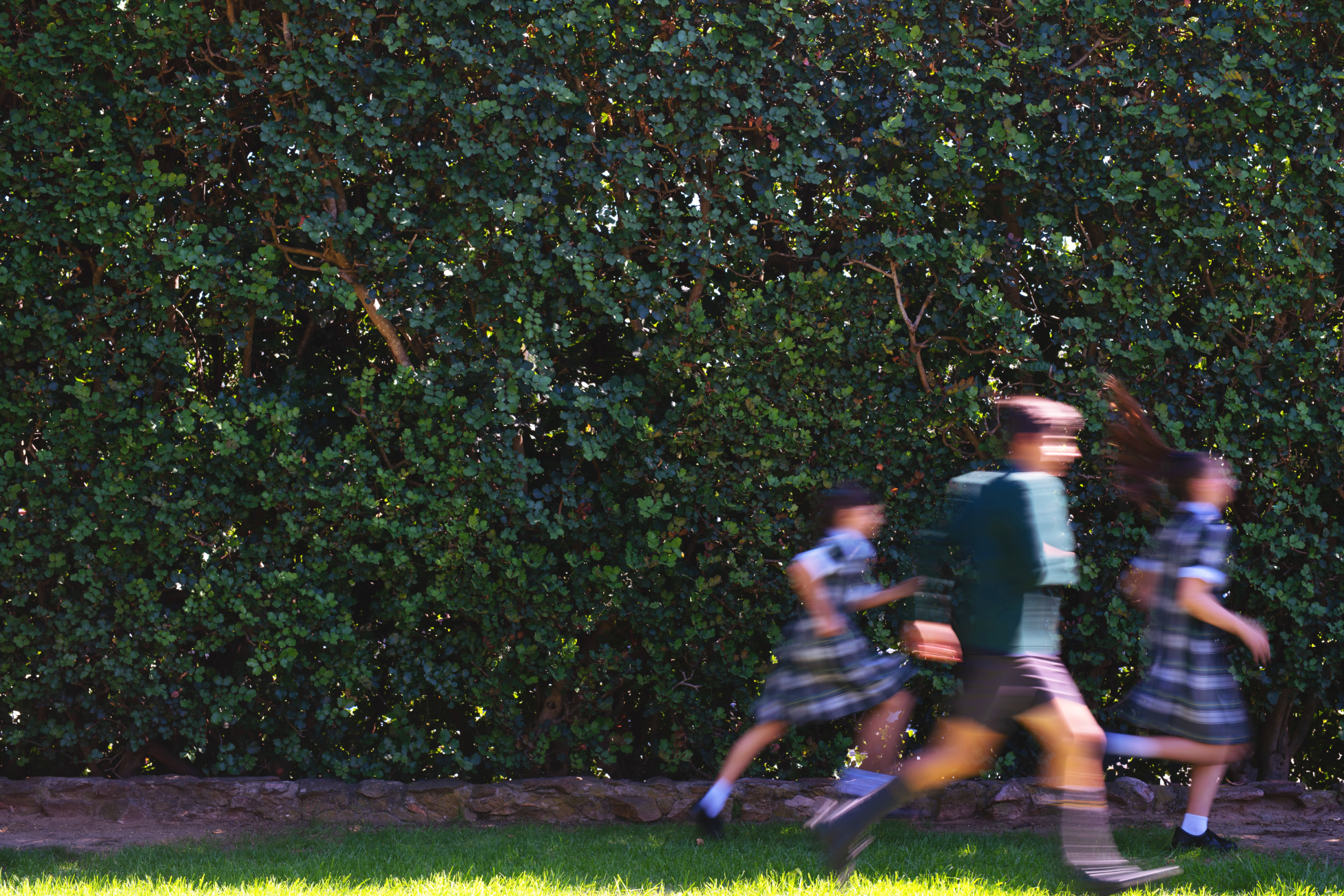 Mercy Vine
Term 3, Issue No. 2 - 2 September 2022
Good Sports
Intercol 2022
Twenty one shield encounters over a week and a half.
This year, with crowds back in vogue, it was pleasing to see many students from across the College, parents, staff and Old Scholars attending events. The College community united and the spirit it creates is something Mercedes College should be proud of.
Each year at Intercol there are highlights that may not be reflected on the scoreboard, or by the eventual 7 - 14 shield count. One of these highlights is observing the character of the young men and women being raised within the competing Colleges. As I reflect upon the event, I can't help but compare the relationship between students to the stereotypical teenage sibling relationship; they may argue, try and get each other into trouble, and say they don't like each other, but at the end of the day, it is noticeable that there is a love between them and they will stick by each other.
Another off-field highlight was the atmosphere at the soccer on Wednesday night, with two music students bring their instruments to lead the chants for the first time. Well done to Clancy Cvetko (drums) and Charlie Tan (saxophone) who played tunes all night for the other spectators and broke into "Camel Land" during the girls' winning match. I sat listening on the far side of the pitch filled with pride.
My final highlight is probably shared by those who attended a variety of events: the atmosphere at the netball on Friday night was unbelievable. The stadium was rocking, and having an Open A game with scores level and a minute to play meant the crowd was as invested as the players. I'm sure the Middle School netballers sitting courtside aspire to experience similar situations in future years.
Many thanks go to our coaches and parents across the entire winter sports programme. In many ways Intercol is the end-product of a whole-school sports programme, but it's also evidence of our community coming together in a display of sportsmanship and living the Mercy Keys with a respected fellow College. Well done and thank you to all that were involved as officials, players and spectators.
Jeff Wray
Intercol Coordinator
---
Intercol 2022 Results
Middle Boys Cross Country
Mercedes 10 d St Ignatius' 26
MVP: Sam Glasson
Middle Girls Cross Country
Mercedes 10 d St Ignatius' N/A
MVP: Summer Hudswell
Open Boys Cross Country
St Ignatius' 13 d Mercedes 23
MVP: Lachlan Mowbray
Open Girls Cross Country
St Ignatius' 10 d Mercedes 26
MVP: Layla Kinnane
Open A Chess
St Ignatius' 4 d Mercedes 1
MVP: Jack Kirkwood
Open B Debating
Mercedes 2 d St Ignatius 1
MVP: Simon Aylward
Open A Debating
Mercedes 2 d St Ignatius' 1
MVP: Abigail Ranford
Open Mixed Hockey
St Ignatius' 14 d Mercedes 0
MVP: Holly Goode-Smith
Open A Girls Soccer
Mercedes 1 d St Ignatius 0
MVP: Sascha Spoor
Open A Boys Soccer
St Ignatius 1 d Mercedes 1
Penalty shoot out 4-3
MVP: Foti Ntafillis
Middle Table Tennis
St Ignatius 25/55 d Mercedes 7/19
MVP: William Catinari
Open Table Tennis
St Ignatius' 35/107 d Mercedes 5/20
MVP: Ryan Schuurmans
Middle Basketball
St Ignatius' 62 d Mercedes 35
Open C Basketball
Mercedes 38 d St Ignatius' 18
MVP: Miles Paul
Open B Basketball
St Ignatius' 44 d Mercedes 31
MVP: Will Goss
Open A Basketball
St Ignatius' 55 d Mercedes 24
MVP: Max Burton
8A Netball
Mercedes 27 d St Ignatius 25
MVP: Ava Barton
9A Netball
Mercedes 39 d St Ignatius' 21
MVP: Layla Timbs
10A Netball
Mercedes 34 d St Ignatius' 7
MVP: Macey Lange
Open C Netball
St Ignatius' 29 d Mercedes 15
MVP: Harriet Milne
Open B Netball
St Ignatius' 34 d Mercedes 28
MVP: Sophia McArthur
Open A Netball
Mercedes 33 d St Ignatius' 31
MVP: Emerson MacDougall
Middle Boys Soccer
St Ignatius' 7 d Mercedes 0
MVP: Johann Ninan
Open C Boys Soccer
St Ignatius' 2 d Mercedes 0
MVP: Max Kafetzis
Open B Girls Soccer
St Ignatius' 2 d Mercedes 1
MVP: Lotta Nielsen
Open B Boys Soccer
St Ignatius' 4 d Mercedes 4
Penalty shoot out 3-1
MVP: Sam Taverna
Middle Girls Football
St Ignatius' 37 d Mercedes 7
MVP: Summer Hudswell
Middle Boys Football
Mercedes 130 d St Ignatius' 0
MVP: Eddy Martins
Middle Girls Football
St Ignatius' 25 d Mercedes 13
MVP: Kiara Pierce
Open Girls Football
Mercedes 57 d St Ignatius' 0
MVP: Zoe Prowse and Zoe Venning
Second XVIII Football
Mercedes 93 d St Ignatius' 15
MVP: Xavier Conway
Open Girls Football
Mercedes 61 d St Ignatius' 7
MVP: Violet Patterson
First XVIII Football
St Ignatius' 118 d Mercedes 70
MVP: Patrick Case
Intercol Shields
St Ignatius 14 d Mercedes 7
Important Dates
Monday 26 September | Beginning of Mercy Week
Friday 30 September | Mercy Day Mass
Feedback
We are committed to ensuring the Mercy Vine is an easy and pleasant experience for our readers. Please click here to provide us with your feedback.