Term 3, Issue No. 2 - 2 September 2022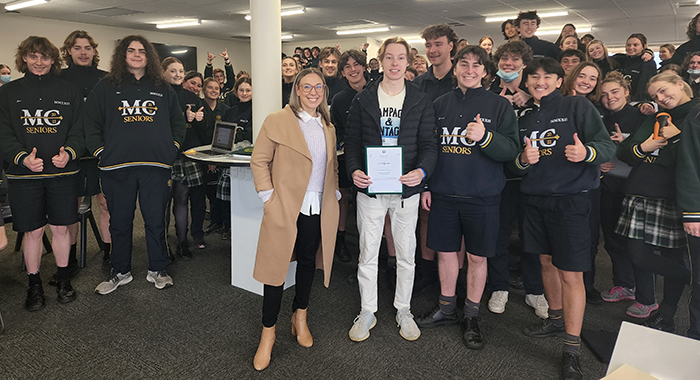 Senior School News
Student learning and achievements
A special Senior School cohort.
Entrepreneurship in 2022
Our MC8 Entrepreneurship group is continuing its work through Term 3.
The venture emerging is called Daisy Dogs and is exploring the possibility of a business to assist pet owners look after their precious pets.
To help the group gather important market and customer research, please complete this short online survey. Your feedback will help students review possible services offered by Daisy Dogs and locations to focus on.
If you work in the pet industry or have used pet services before, we would be especially keen to hear from you.
With Entrepreneurship continuing in 2023, and you'd like to support opportunities for students at Mercedes College then please make contact with Sarah Marinelli and Michael Francis.
---
Senior School commitment to quality education
IB curriculum and their hallmarks right through Primary Years, Middle Years and ultimately the Senior Diploma align wonderfully with our purpose as a College. The central tenets of internationally focused education, critical thinking and developing caring and knowledgeable people for future leadership in our world are well developed in both our SACE and IB curriculum areas.
With discussion about the IB programme in the media recently, plesae get in touchto clarify any information or ask us questions. Programme Coordinators in our Middle and Senior Years are well regarded in the educational sector and we welcome converastion with you about these programmes and how well they assist students to grow and develop into well skilled and principled young people.
---
Student achievements
Congratulations to Elise Fitzgerald (11CL) who will be representing the South Australian Gymnastics team in competition in Darwin this week. Elise's sister Laura Fitzgerald (10WG) is also preparing for National Junior Diving Championships in early October, in Queensland.
In more news, Emma Ielasi (10NG) will also be competing at the National Gymnastics Championships in late September on the Gold Coast.
Congratulations on your achievements Elise, Laura and Emma – we wish you every success.
---
Honorary Graduate | Class of 2022
Early this Term we hosted Lachlan Emery in some volunteering experience on campus, and took the opportunity to surprise him and show him how much the Year 12 cohort feels that he belongs.
Lachlan has joined the 2022 cohort for short periods each academic year since Reception, whilst travelling around the world with his family. His continued presence within this group demonstrates a clear love for the Mercedes College community and he has built a strong bond with his peers here. To demonstrate the cohort's connection with Lachlan, we gave him 'Class of 2022 Honorary Graduate' status in a surprise presentation (pictured).
In receiving this gift Lachlan made a short speech of thanks, telling our Year 12s, "I don't think you realise how special this cohort is" and we can certainly agree with that sentiment.
It was a lovely gesture, warmly received, and we wish Lachlan every success as he steps out with his set of Mercy Keys in his pocket.
---
Michael Francis
Head of Senior School
Monday 26 September | Beginning of Mercy Week
Friday 30 September | Mercy Day Mass
Feedback
We are committed to ensuring the Mercy Vine is an easy and pleasant experience for our readers. Please click here to provide us with your feedback.