Term 3, Issue No. 2 - 2 September 2022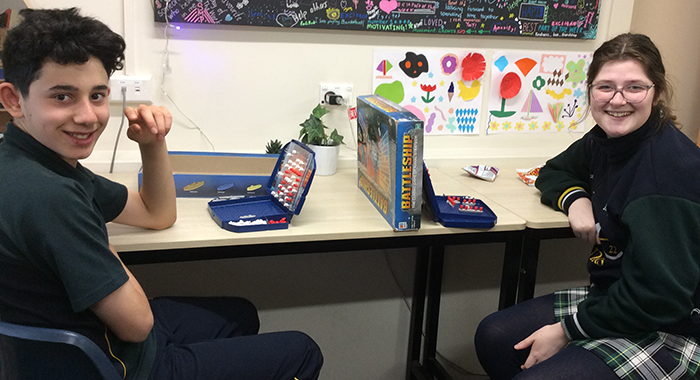 Student Mentoring Programme
The rewards of mentoring
Our Year 12 students reflect on their experience as a mentor.
One of the wonderful things about our College being an R-12 campus is the unique opportunity to invite Year 12 students to mentor younger students.
Our current Year 12s will wrap up their involvement in the Student Mentoring Programme (SMP) at the end of this Term, and we took a moment to capture some of their experiences and what it means to them to be a mentor.
"Having been at Mercedes since Reception, I was part of the Student Mentoring Programme as a younger buddy repeatedly. As a result, I enjoy being part of the Student Mentoring Programme this year because I know that I am helping someone enjoy school a little bit more, just like I did when I was younger." – Charlotte Sorrell
"I look forward to mentoring my buddy each week as we have built a strong friendship over the sessions by kicking a soccer ball, playing card games, or helping him with work. It is not only a time for both of us to have a break from school work but also a very rewarding experience, as you see the difference you are making in your buddy's time at school." – Jack Braddy
"Time in the SMP is so valuable because it gives us, as senior students, the chance to support a younger student and help them through their year by being a student voice and sharing key insights on the years to come. It also allows the younger students to have a role model who they can look to for support. I particularly enjoy my SMP time as it gives me a chance to get away from my studies and build an interpersonal relationship with a younger student."- Eric Penna
"I have loved the opportunity to be a student mentor this year. It has been incredible to see my buddy become more comfortable, grow and flourish through the programme. I am so lucky to have been able to participate in this programme and assist my student with their endeavours." – Marianna DeTullio
---
When we look ahead to 2023, I encourage our Year 11 students to start thinking about involvement in the programme and to speak with the current Year 12s about their time in SMP and consider volunteering their time for this wonderful cause.
If you would like to volunteer as a mentor, it is never too late to be involved. We are currently recruiting for more Community Mentors to work with students on the SMP waiting list. If you are a parent (past or present) or Old Scholar of the College, I would love to hear from you. Please message me on SEQTA or email me at sheuzen@mercedes.catholic.edu.au for more information.
Stephen Heuzenroeder
Student Mentoring Programme Coordinator
Monday 26 September | Beginning of Mercy Week
Friday 30 September | Mercy Day Mass
Feedback
We are committed to ensuring the Mercy Vine is an easy and pleasant experience for our readers. Please click here to provide us with your feedback.