Term 3, Issue No. 2 - 2 September 2022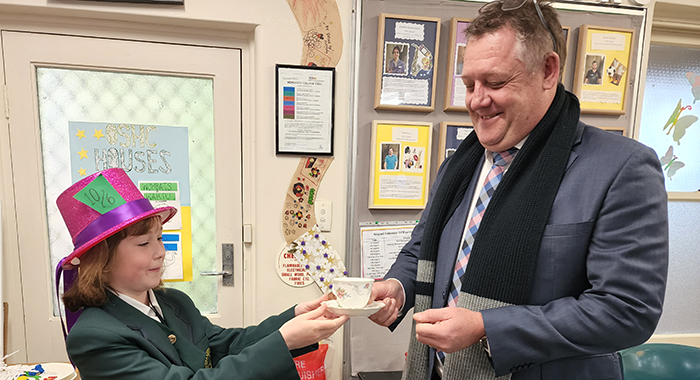 Out of School Hours Care
Down the rabbit hole
Why is a raven like a writing desk?
It would not be surprising if some of our OSHC Educators feel like they have tumbled down that famous rabbit hole in a bid to find Alice and the White Rabbit in the magical world of Wonderland.
Stephen and a band of clever artists set the scene for the term when they painted our window showing poor Alice taking that fateful tumble, and over the first half of Term we have created a topsy turvy Mad Hatter's Tea Party on the ceiling! The party table includes cups, plates, cutlery, party hats and a high tea stand, making a very colourful display. Some may say it's quite mad, but we think it's very OSHC!
Many of the children have enjoyed reading the book and, of course, we have watched the movie more than once.
We are delighted by Alice's curiosity, which carries the story forward, and encourage a sense of curisosity in our children too.
This week our before school care children hosted Principal, Mr Balkwill and Head of Junior School, Ms Osborn for an Alice-inspired breakfast. The students cleverly entertained their VIPs with tales of their OSHC activities and some Alice in Wonderland trivia.
We look forward to creating a new theme for Term 4!
Debbie Goss
OSHC Coordinator
Monday 26 September | Beginning of Mercy Week
Friday 30 September | Mercy Day Mass
Feedback
We are committed to ensuring the Mercy Vine is an easy and pleasant experience for our readers. Please click here to provide us with your feedback.