Term 3, Issue No. 1 - 5 August 2022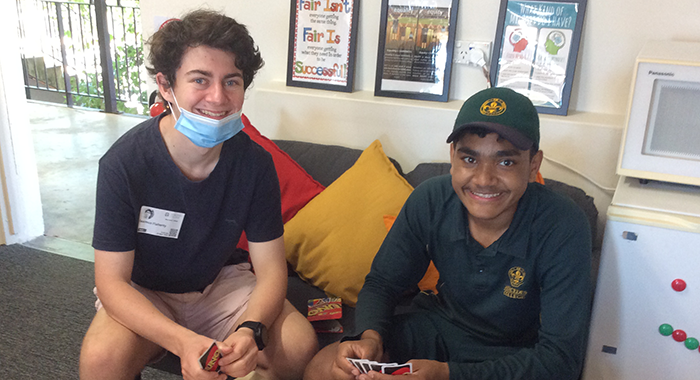 Student Mentoring Programme
Mentors helping students flourish
New faces and great interactions
We are well and truly into the swing of things in our Student Mentoring Programme SMP for 2022.
Main image: Zedekiah (Year 9) with Old Scholar Seamus
It has been fantastic to welcome many new Community Mentors into the programme, and into our Mercedes Community, this year. They join Year 12 students, Old Scholars, and parents (past and present) who are in mentoring roles around the College.
Pictured (L-R): Caden (Year 7) with past parent Wendy-Anne, and Lucas (Year 7) with Year 12 student Isaac
We're also casting the net wider in the search for new Mentors, connecting with students from Flinders University and the Univeristy of SA studying Education or Psychology, and inviting them to join our programme.
Our new Community Mentors with no prior experience, attend our Mentor Training Workshops, where we provide insights and develop the skills needed for working with young people. Participant feedback has been positive.
Pictured (L-R): Mattis (Year 7) with Education student Daniel, and Orte (Year 6) with Old Scholar Tia
It's been wonderful to see the great relationships between students and their Mentors flourish. The opportunity for students to build one-on-one connections with their Mentors is so important, and vital in nurturing their self-esteem, confidence, and overall wellbeing.
With more students eager to participate, you too can become a Community Mentor. If you're interested in volunteering as a Mentor please contact me via email or through SEQTA direqt message.
Stephen Heuzenroeder
Student Mentoring Programme Coordinator
Feedback
We are committed to ensuring the Mercy Vine is an easy and pleasant experience for our readers. Please click here to provide us with your feedback.