Term 3, Issue No. 1 - 5 August 2022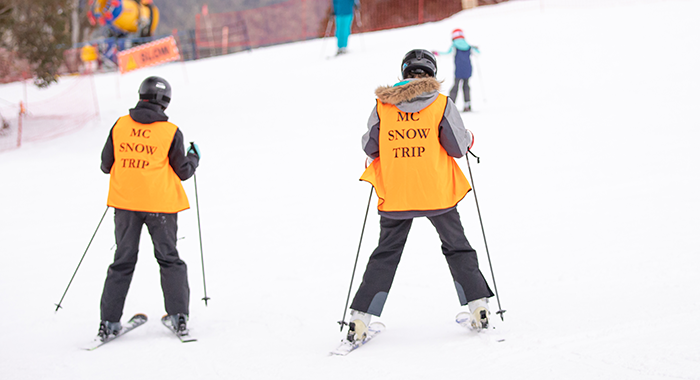 Senior School News
Amazing achievements
Students rise up to meet a range of experiences
Snow Trip 2022
What an experience! The 2022 Snow Trip took place in the first week of the recent Term break and, from all reports, the Year 11 participants enjoyed learning new skills, developing new relationships, and enjoying 'mountain life' for a week. Conditions were very good for both skiers and snowboarders.
As the first trip of its kind since 2019, it has been great to hear that it's been just the kind of experience students were looking for to take on new challenges and flourish!
---
Trial examinations
Well done to our Year 12 students who recently completed trial examinations in preparation for the final examinations beginning in October. The opportunity to develop examination techniques, strategies for revision and time management under pressure will no doubt hold them in good stead for this challenge. Considering that some of our IB Diploma students completed up to 12 examinations across five days, I think they have earned well deserved congratulations.
---
College Captain process
The approach of examinations means that we begin to turn our heads toward the process of electing our 2023 College Captains. Our Year 11 students are in the middle of this process, with nominations complete. Interviews and presentations to the student body by candidates will take place in the coming weeks.
I have no doubt that our 2023 College Captains will continue the long tradition of fine young people representing our College community with grace and dignity. Good luck to the Year 11 students investing in this process. Further opportunities for leadership in the community will be explored through Terms 3 and 4.
---
Retreat
It is with great joy that we have celebrated the 2022 Year 12 Retreat. After being unable to hold it as scheduled in early Term 2, our Year 12 cohort has just this week journeyed to Mylor Adventure Camp to build on their relationships together, reflect on their faith and spiritual development, and enjoy some fun together. In 2022 we have been able to conduct this experience on a single site, which has been something Year 12 students have been keen on, and the highlight of the experience being the greatly anticipated Candle-lit Reconciliation Ceremony.
---
Outstanding student achievement
Laura Fitzgerald (10WG) was an outstanding competitor at the recent National Junior Elite Diving competition held in Sydney in early July. In fact, Laura performed so well that she qualified to compete at the World Junior Championships Trials in Brisbane in October, which may lead to qualification to represent Australia at the world Championships in Canada in November. We are right behind Laura as she competes at this elite level in this amazing sport. Good Luck Laura!
---
Michael Francis
Head of Senior School
Feedback
We are committed to ensuring the Mercy Vine is an easy and pleasant experience for our readers. Please click here to provide us with your feedback.