Term 3, Issue No. 1 - 5 August 2022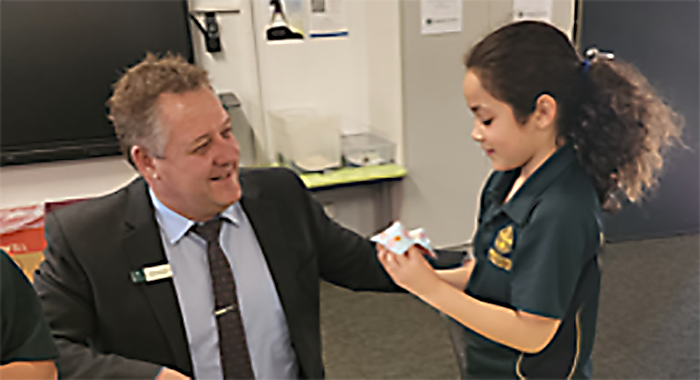 From the Principal
Exciting milestones ahead
Term 3 is jam-packed with things for your diary
Building high performance
Kennett Builders have excavation work well underway across our campus, with crews working to increase carparking capacity in our north-eastern and south-eastern corners, and setting new levels where our outdoor courts were, ahead of constructing our new sport and community spaces.
In preparing the southern area for construction, vegetation has been removed. Once building works are finished, landscapers will beautify the street scape with vegetation that complements our open spaces and beautiful garden grounds.
Our $25 million high performance Arts and Sports Precinct project will also deliver new spaces where students will be able to socialise as well as sit peacefully to enjoy the outdoors.
---
Safe learning opportunities
With various construction areas fenced off, access to the campus is different this Term and car parking on campus is at a premium. Thank you for adjusting your morning and afternoon routines to accommodate this.
The Kiss and Drop zone at our Delamere Avenue entrance provides a safe and swift set-down each morning from 8am to 9am for Reception to Year 3 students. In the afternoons, this area is used for school buses leaving our campus. It's also terrific to see so many happy students chatting with each other and their families as they head home.
Particularly for our Junior School students, the temporary changes provide a great opportunity to practice safely getting in and out of a parked car (passenger side entrance/egress) and crossing the road (always stop, look, listen and think before crossing a road, and use pedestrian crossings wherever possible). You can find more pedestrian and road safety tips for kids here.
Just by watching you, your child will learn about pedestrian safety, so show them safe behaviours around cars, roads, footpaths, driveways and car parks. Please observe no standing or parking areas and be mindful of our neighbours by not stopping across driveways, even temporarily.
Our Carrick Hill Drive and Delamere Avenue pedestrian entrance areas are supervised each morning and afternoon, as is the Emu Crossing. These areas are supervised until 3.45pm each afternoon, providing plenty of time to safely collect children following dismissal at 3.25pm.
---
CIS accreditation
Mercedes College has begun the process of renewing our membership with the Council of International Schools (CIS). Our CIS community includes more than 1,300 schools and universities, representing 123 countries. Membership is a rigorous process and can give the community confidence that we hold ourselves accountable to an external quality assurance process to enhance student learning, maintain a commitment to high quality international education and good governance. The first signpost will be reached in mid-September with a progress evaluation.
Mercedes College is the only Catholic School in South Australia to hold a Council of International Schools (CIS) accredited status, and one of only three nationally. First accredited in 2005, our five yearly review is now underway.
This is a rigorous process that drives continuous improvement, ensuring we continue demonstrating delivery of a high quality international education. It also synchronises the IB Programme evaluation process of whole-school evaluation and accreditation. Accreditation provides confidence to current and prospective families, educational leaders and teachers, and so on, that we do what we say we do, and to a high standard.
The CIS Accreditation process includes assessment against internationally recognised standards, particularly governance, leadership, financial practices, commitment to internationalism, human relations, student wellbeing programmes, co-curricular activities and professional support.
Another performance assessment is underway, and we'd love you to have your say on how well Mercedes College is Living Learning Leading to ensure students develop knowledge, skills and attributes to flourish, by completing a three minute survey.
By participating you'll be providing feedback that informs long term site planning, including the allocation of resources.
All of our families, plus students, teachers, education support officers and admin personnel are being asked to participate, so that we capture a community snapshot about how we can make our best even better.
If you have not yet completed the survey, please do so online, entering access code LLLPMC to provide a rating for each statement. The survey closes next Friday, 12 August 2022.
---
#salafestival exhibition
While you're online, visit our #salafestival exhibition. Each year during August, SALA takes place in galleries and non-traditional arts spaces across South Australia, providing everyone the opportunity to connect with thousands of emerging, mid-career, and established South Australian artists.
This year, more than 500 venues across the state are hosting exhibitions that will reach more than 850,000 people. Our exhibition features the work of our emerging artists from Year 1 to Year 10. Simply click to visit our #sala festival exhibition and enjoy! You can also see a number of these works when you're next on campus.
---
CONVERGE 2022 | Our Music Showcase
Later this month you can also join us for an entertaining night of music and song, celebrating the talent of our students from Year 2 to Year 12. CONVERGE showcases the diversity of our music department, bringing together different bands, choirs and soloists from across the College to perform a variety of genres.
Tickets to COVERGE, hosted at The Arkaba Hotel on Glen Osmond Road at Fullarton, are just $15, with cabaret seating and the option to pre-purchase platters for your table. You'll also have the chance to win some great prizes, with our Friends of The Arts committee running a raffle. Book your tickets now.
---
Intercol
There are many long-standing traditions at Mercedes College and one of these is Intercol – our Intercollegiate competition with Saint Ignatius College.
Across the span of a week, we go head-to-head in nine different disciplines, with senior teams competing for a total of 21 shields. The College with the highest number of shields at the close of competition wins Intercol for that year.
After 17 years the competition tally stands at Mercedes 11 to Saint Ignatius' 5 and 1 draw.
If you have attended an Intercol event previously you'll know the passion our students bring to the competition as they support one another to achieve their best.
The school spirit shown by students is something we can all be proud of – they take pride in competing and wearing their formal uniform as supporters and cheering on their peers, plus they make posters, create chants and embrace our Camel mascot.
This year, to foster this fabulous spirit across our campus, we're introducing a pre-Intercol event for the first time. This special event will provide students from all Year levels how special and important the Intercol competition is to Mercedes College.
On Friday 19 August, at lunch time, we'll be hosting some friendly Junior School versus Senior School soccer matches to build excitement for the upcoming Intercol competition, with handicaps in place to make things fair, equitable and fun. At the end of these 'friendly matches' we'll present Intercol athletes with playing guernseys for the week ahead.
As school pride and spirit resides in us all, you're invited to join us in the festivities of the day. Feel free to pop into the College between 1:20pm and 2pm on Friday 19 August 2022 to catch a glimpse of all the action.
For the full Intercol program see From the Sports Desk.
Go Camels!
---
Andrew Balkwill
Principal
Feedback
We are committed to ensuring the Mercy Vine is an easy and pleasant experience for our readers. Please click here to provide us with your feedback.