Term 3, Issue No. 1 - 5 August 2022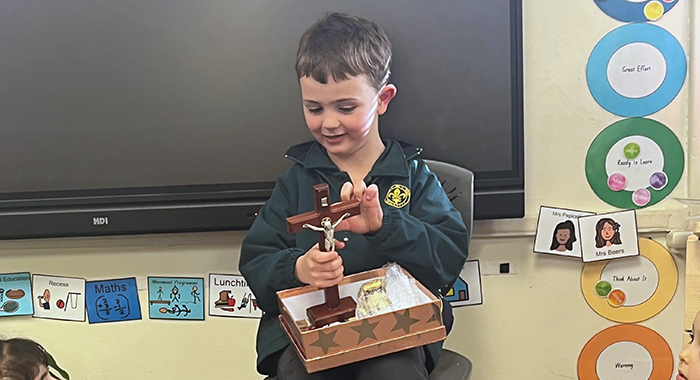 From the Director of Mission
Sacred Symbols
Exploring Sacraments and Sacramentality
As part of our Religious Program, Reception students have been exploring sacred symbols and why they are special. Students were asked to bring in sacred symbols to share with the class and those who did were very proud, sharing why they are special and whether it belonged to a grandparent or a parent. There were so many different symbols from our Christian tradition and from other faiths. The students thoroughly enjoyed sharing their importance and how these help us to be close to God.
Knowledge strand: Sacrements and Sacramentality
Enduring understanding: Sacred Symbols are special and important
Pictured (clockwise from top left): Elo, Matthew, Mila, and Angus. Thank you for sharing your Sacred Symbols.
---
We would like to congratulate Lelia, Alexis, Maya, Scarlett, Isabella, and Ortensia and their families, who celebrated their First Holy Communion at St Paul of the Cross Parish last month. We also have students celebrating their First Holy Communion on 14 August at the Emmaus Parish; we wish Elessia, Matteo, Amelia, Lincoln, Elijah, Isabella, Olivia, and Isobel and their families the very best as they celebrate this special occasion and look forward to congratulating all of these students at an assembly later this Term.
If you would like to enrol your child into the Sacrament Program for 2022-23 please collect and complete the enrolment form from Strathspey House reception. Alternatively you may email Teresa Pepcielli on tpepicelli@mercedes.catholi.edu.au for further information.
---
Teresa Pepicelli
Religious Education Coordinator R-5
---
Our spiritual journey
Our RE team have been particularly busy this Term, with Junior School students celebrating their sacraments, Year 9 Reflection Days, Year 12 Retreat, and the continuation of our weekly masses and liturgies.
We welcome parents back into the College to attend Friday morning Masses with students (Years 3 to 9). These Masses or liturgies are typically held in the Ursula Frayne Chapel in Strathspey House, but if we have a larger group we will communicate the alternate location to parents.
Year 7 students recently celebrated Mass in the Carmel Bourke Library and Technology Centre, with Fr John Shanahan giving modern interpretations of Luke's Gospel (Luke 10:38-42), referring to the way we respond to situations: are we like Mary who knew true hospitality and sat with Jesus when he visited, warmly welcoming him into the home while Martha anxiously ran around fussing about? We are so blessed to have Fr John and Deacon Andrew, who always pitch their homilies and stories in ways that connect with our students and community.
We are now planning Mercy Week and the Mercy Day Mass, held at the end of Term 3.
Blessings to all
Therese Wilson
Director of Mission
Feedback
We are committed to ensuring the Mercy Vine is an easy and pleasant experience for our readers. Please click here to provide us with your feedback.