Term 4, Issue No. 2 - 12 December 2022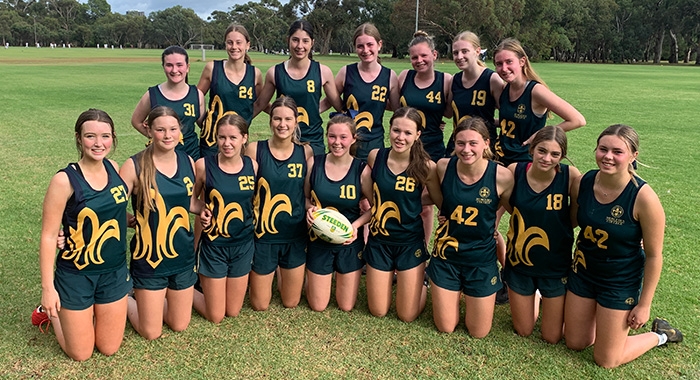 From the Sports Desk
Summer sport 2023 on the horizon
A summary of the year and more student achievements
2022 Sport Season Completed
It has been a year of many highlights and success across our girls' and boys' sporting teams.
The building of our new Arts and Sports Precinct has been an interruption, yet one of great positivity as we look forward to having a wonderful new facility for our students to train and compete in. Thank you everyone for their flexibility and planning to ensure the transition to off-site matches and trainings was as seamless as possible.
On behalf of the Sports Faculty we would like to extend a massive thank you to all coaches and staff for the time and effort you put into ensuring the girls and boy were well looked after, and to the parents/families for consistently ensuring your child was organised for their trainings and matches each week. We also greatly appreciate the extra support we receive on match days where assistance is given in jobs such as scoring, timing, linesperson, goal umpire or even bringing a halftime snack for the team!
We're now in the process of sorting through all the 2023 summer nominations and sending them through to our association so they can begin to create fixtures for Term 1 next year.
Please do not hesitate to contact us if there are any questions or concerns you have about the 2023 sport season. We are thoroughly looking forward to Term 1 sport commencing again next year!
Thank you 2022 Sport Leaders, Executives and House Captains
A big thanks to our 2022 Sport Leaders and Executives for the dedication and hard work you've put in this year during your tenures. Thank you Zoe Kroeger, Jordan Lewis, Lara Fox, and Patrick Case.
We would also like to extend our thanks to our 2022 House Captains: Molly Charlton, Emerson MacDougall, Lauren Williss, Olivia Connelly, Tayla Willoughby, Hayden Howard, Grace Kemish and Jack Kirkwood for all your work and efforts throughout the year and being supportive to the Sport Leaders and Executives.
We wish you all the best in your future endeavours and hopefully we will see your faces in our community within the Sport Programme coaching or assisting with a team in the near future.
2023 Sport Leaders & Executives
We are pleased to announce the appointment of our Sport Leaders and Sport Executives for 2023:
Sport Leader – Layla Kinnane
Sport Leader – Joseph Ianniello
Sport Executive – Sophia McArthur
Sport Executive – Olivier Pike
Congratulations to these students for the courage and time you took to go through the process. The sport department is excited to be working with such an inspiring and committed group in 2023!
2023 House Captains
We are honoured to announe our House Captains for 2023:
Barry House – Mia Tuhou-King and Samantha Chan
Dalton House – Eleana Perre and Ashlee An
Fitzpatrick House – Michaela Scardigno and Will Goss
McAuley House – Lucia Fiocchini and Paris Young
House Captains will work closely with the Sports Leaders and Executives throughout 2023 and we wish these students well in their upcoming leadership roles at the College.
2022 Australian All Schools Athletics Championships
Congratulations to the students representing South Australia at the 2022 Australian All Schools Athletics Championships, 9 to 11 December.
Ava Barton (Year 8) – U/15 Pole Vault
Oliver Dixon (Year 8) – U/15 100m Hurdles
Christian Whitwell (Year 9) – U/16 Shotput
Noah Chlanda (Year 11) – U/17 2000m Steeplechase
Layla Kinnane (Year 11) – U/18 100m, 200m
Eamon Sibly (Year 11) – U/18 Long Jump & Triple Jump
These students will be competing against the best school aged competitors from around Australia. To have six Mercedes College students representing the state is a massive achievement and we as a College community are very proud and wish them all the best!
Student Achievements
Congratulations to Zara Downes (Year 8) who has been selected in the SACA Under 14 Cricket Academy. These championships are coordinated by Cricket Australia and School Sports Australia and involvement is an integral part of the Cricket Australia player pathway programme. A number of current Australian cricketers developed from this programme, which involves a 12-month weekly training program and a four game SA U14 state challenge round. Congratulations Zara and we wish you all the best with your Cricket endeavours.
Zara has also been invited by The Port Adelaide Football Club to join the AFLW Next Generation Academy U15 Female Talent Squad Programme for 2022-23. Training begins in early January and throughout the programme players hear from Port Adelaide Coaches and members of the High Performance team to provide advice and help squad members understand the hard work and character required to play in the AFL. During this programme players participate in fitness training, nutrition, mindset and resilience training. Congratulations Zara!
Congratulations also to Georgia Emes (Year 8) who has been invited by the Adelaide Football Club to join the AFLW Next Generation Academy U15 Female Talent Squad Programme for 2022-23. Back in October, Georgia represented the West Adelaide Football Club in a three day tournament in the October school holidays, where recruiters came to watch the last game of the tournament and selected their squad. Georgia begins training this week with the Crows until Christmas and will recommence in January. We wish Georgia all the best and we look forward to watching her develop in her Football career.
Congratulations to Grace Morton (Year 8) who was been selected in the South Australian School Sport Nationals Swimming Team that competed in August in Brisbane. Congratulations Grace on an incredible achievement. Grace also qualified to compete in the National Age Championships in April in Gold Coast. Grace will be competing in 50m, 100m and 200m Backstroke and is striving to qualify for 50m, 100m and 200m Freestyle in the coming months. We wish Grace the best of luck!
Tamae Ninos and Josh Archer
Sports Coordinators
Feedback
We are committed to ensuring the Mercy Vine is an easy and pleasant experience for our readers. Please click here to provide us with your feedback.