Term 4, Issue No. 2 - 12 December 2022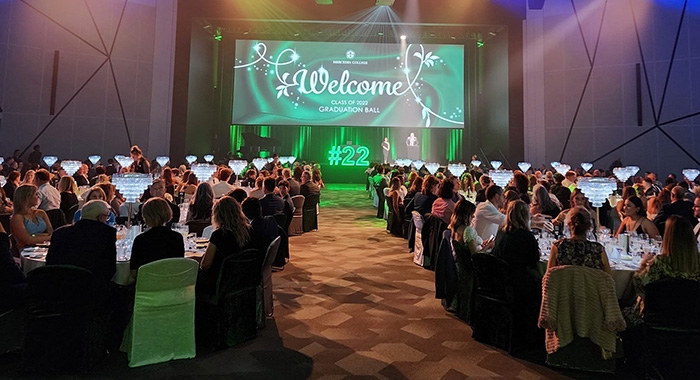 Senior School News
Passing the baton
Farewell to the Class of '22 and welcome to our new leaders for '23
Year 10 Retreat and Reflection Day
As part of their day of reflection, our Year 10 students were asked how they may assist the work of Louise Place, a Centacare Catholic family services organisation that offers care and support for young women and their children who are experiencing, or at risk of homelessness.
Their response was to create a collection of care packages for Louise Place clients and, with especially generous support from the Romeo and Stanley families, they gathered enough donations to create packages for more than 30 young mothers. In a lovely show of our Mercy Keys, packages included baby care items, vouchers, blankets, and self-care products that could take some of the immediate pressure off of members of the community experiencing a moment of crisis.
Students were also joined on this day by Senior Kaurna Man, Uncle Mickey Kumatpi O'Brien, who spoke of the importance of connection and relationship; values certainly demonstrated in the activities of the students earlier in the day.
Year 10 Mock Interviews
A key element of of the SACE programme is the Year 10 Personal Learning Plan, through which our students engaged in preparations and delivery of mock job interviews with some of our generous community of volunteers. Students considered job application requirements, prepared a resume, then sat with an 'employer' to experience an interview situation and discuss their suitability for the position.
Thanks go to our Student Pathways Coordinator, Bill Deegan, and his team for providing yet another rich learning experience that will help our students feel ready for life 'beyond the hedge'.
Volunteer 'employers' preparing to host interviews
Year 12 Graduation
With assessments and examinations complete, our Year 12 cohort happily celebrated the last of our farewell events: the 2022 Graduation Ball. More than 500 guests were welcomed by Year 12 Year Level Leader, Holly Potter, and joyfully reflected of the year that was, and the experiences shared across their time at Mercedes College.
To those families who have now seen their youngest child graduate, a special congratulations and a sincere thank you for your support across many years. It certainly was a fitting celebration to celebrate your children. We look forward to hearing of your achievements and wish you all a safe and well-earned break.
2022 award recipients
In their final assemblies we celebrated the academic and personal achievements of Year 10 and Year 11 students. We also presented the 2022 Mercy Key Awards, as well as two additional awards: The Award for Outstanding Service to Leadership was presented to Benjamin Hughes (Year 10), and the Mercurean Award was presented to Matthew Dachs (Year 11). Congratulations to all of our worthy award recipients.
| | | |
| --- | --- | --- |
| Mercy Key | Year 10 | Year 11 |
| Compassion | Marcus Quarisa | Eleanor Auricht |
| Integrity | Sara Elleway | Vaughn Brereton |
| Loyalty | Angelle Miles | William Goss |
| Justice | William Hannan | Sannawar Sandhu |
| Mutual Respect | Reuben de Tullio | Lily Dyson |
| Responsibility | Matilda Barter | Samson Ranford |
Student Leadership in 2023
Congratulations to students for their appointment to Student Leadership roles in 2023:
Social Justice Leaders | Poppy Willis, Lucinda Griffin, Sannawar Sandhu, Bhaanvi Mishra, Lachlan Priest and Sam Andonas
Arts Leaders | Grace McGowan and Matthew Frost.
Arts Executives | Hayley Rungie, Holly Goode-Smith, Angelina Knight and Esme Kitching
ISP Leaders | Samantha Chan Sum Yiu, Forrest ZhangTianjia, Hassanshahi Amin, Ivan Du Yifan and Katrina Lai Lok Ting
Each of these emerging leaders put a commendable effort into their statement of intention for 2023, and spoke well with their relevant staff selection panel. We wish each of these young leaders every success.
Gratitude
With the year drawing to a close and our Senior School looking forward to the year ahead, I wish to express my sincerest thanks to the students, families and staff who have made the 2023 year such an enjoyable and rewarding one. Our Year 12s have 'stepped out' to await their final results and some of our Senior School staff will move on to new challenges; thank you for your contributions to our College – it is a richer place as a result of your presence.
May you all enjoy a well deserved holiday break and a holy Christmas season.
Michael Francis
Head of Senior School
Feedback
We are committed to ensuring the Mercy Vine is an easy and pleasant experience for our readers. Please click here to provide us with your feedback.