Term 4, Issue No. 2 - 12 December 2022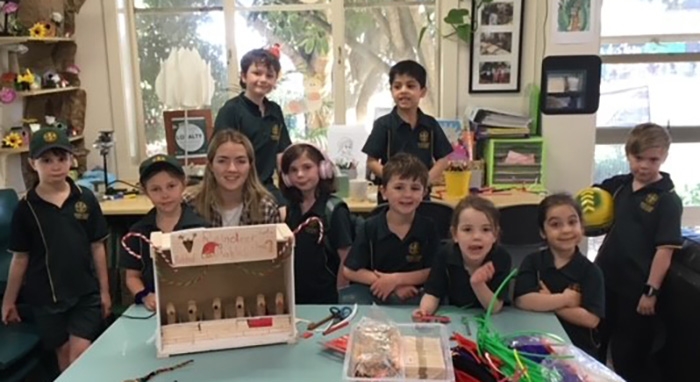 Out of School Hours Care
Wishing you a very 'Hygge' Christmas
Danish comfort comes to OSHC
What is Christmas hygge? Hygge (pronounced 'hoo-guh') is a Danish concept that encompasses a feeing of appreciating small actions people do for you and you do for them. It is also taking pleasure in making ordinary, everyday things more meaningful. We relate to this so much!
Our unseasonally cool, rainy weather inspired us to adopt this vibe for our OSHC Christmas celebrations this year and we love it. As usual, we began by painting our window, this year with a cosy, wintry scene displaying Danish houses lit up with Christmas lights - snow falling softly outside and wispy smoke escaping from chimneys.
As we endeavoured to tick off items on our hygge to-do list we began with a concerted effort to clear the OSHC room of accumulated clutter, but soon acknowledged that this is a long-term project -- one we're not giving up!
We brought out our pillows and throws for a cosy feel, and filled our room with the holiday smell of gingerbread, cinnamon, and rosemary as we make little Christmas wreaths. Also in keeping with our minimalist vision, we created Christmas angels and snowflakes using the humble wooden clothes peg.
This year we are celebrating the Advent Season with a 'reverse' Advent Calendar, collecting items daily for the women supported by Catherine House. In the process we will learn about the work that they do and about showing compassion for those less fortunate than ourselves.
With our fingers crossed for warmer weather over Vacation Care, we nonetheless have a project that will prolong the wintry feeling. We have LOTS of egg cartons waiting to be fashioned into an amazing 'eggloo' for 'eggskimos'. This engineering challenge will be housed in the Junior School Hall and will use plenty of glue, a mountain of patience, dedicated team members, problem solving strategies, and friends ready to have lots of fun!
Make sure you book your place for your favourite Vacation Care activities! Download the summer programme and booking form on our website today.
We will be sure to take plenty of photos to capture the memories made during our summer holidays. We wish all our OSHC families a very happy Christmas and a safe holiday. Thank you for trusting our educators to care for your children, we have enjoyed every minute!
Debbie Goss
OSHC/Vacation Care Coordinator
Feedback
We are committed to ensuring the Mercy Vine is an easy and pleasant experience for our readers. Please click here to provide us with your feedback.