Term 4, Issue No. 2 - 12 December 2022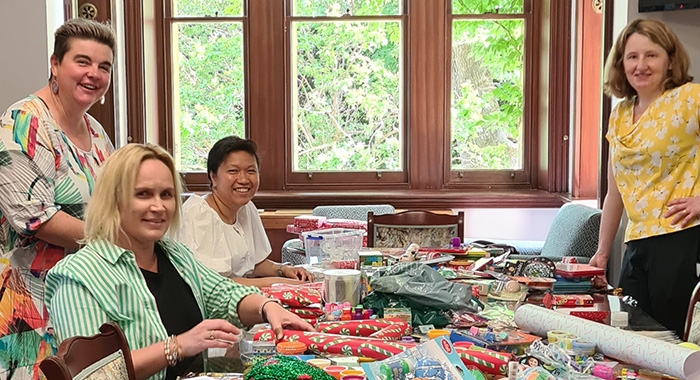 MP&FA
A joyful end to 2023
Santa and Sports fun
The end of Term 4 arrived so quickly that it's hard to believe that another year is over. Although at times tricky to organise, the Mercedes Parents and Friends Association (MPFA) has been so pleased to support the school community with two very special events: Santa's Secret Garden and the Junior School Sports Fun Day.
After three years of living with COVID, it was actually the wild weather Adelaide experienced that brought about the cancellation of the much-anticipated Mercedes College Christmas Picnic. A big thank you to all those volunteers who put countless hours into prepping, planning, coordinating and supporting this event. It truly was a testament to the strong relationships formed within MPFA to see so many of you turn up to sort out an event that had been cancelled and needed to be packed away.
The Mercy Keys were put into action when we donated fresh produce and thawed meat to Catherine House to utilise across their homelessness service, and they were very grateful to us for thinking of them. Thankfully, the weather brightened and on the following Thursday Santa was able to arrive at school and the MPFA sold lucky dips, lolly bags, and soft drinks; a welcome change to the normal after school snacks and a fabulous way to spend an afternoon in the Sunken Garden.
Once again, the MPFA had the pleasure of supporting the Junior School Sports Fun Day by providing a popular baked goods stall and BBQ lunch for students and parents. This is always such a fun day and although the weather was not so kind this year, the children all seemed to enjoy themselves. We are pleased to announce that the Junior School Sports Faculty has recently purchased many new sports balls with the $1,000 donation from the 2021 event, and a donation from 2022 will follow shortly. Thank you to all our volunteers on the day and to those who donated baked goods for this event, and a special thank you to the Borg family for the fruit donations that children enjoyed between activities.
On behalf of the MPFA, we would like to wish the school community a very merry and safe Christmas.
We look forward to more wonderful MPFA events in 2023.
Jo Cowain and Christine Kenny
MPFA Co-chairs
Feedback
We are committed to ensuring the Mercy Vine is an easy and pleasant experience for our readers. Please click here to provide us with your feedback.