Term 1, | Issue No. 3 - 13 April 2022
Senior School News
Students representing success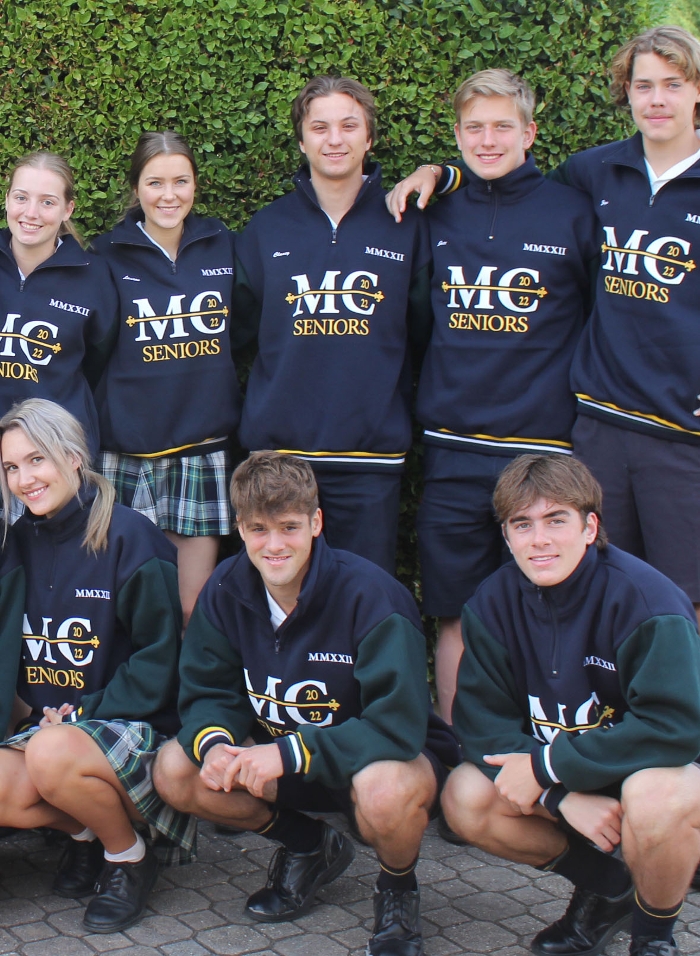 It's with great pleasure that I acknowledge the work of our Senior School Student representatives. Throughout the term they've been showcasing our college by participating in our tours, leading athletics trainings and competitions, planning projects to be implemented for student benefit and being loyal and respectful role models among their peers.
Student representatives in our Senior School
College Captains
Jack Braddy
Amelie Finnimore
Eric Penna
Abigail Ranford
Social Justice League Leaders
Isabel Pena Negrette
Charlotte Sorrell
Stella Tisato
Sport Leaders
Zoe Kroeger
Jordan Lewis
Sports Executives
Lara Fox
Patrick Case
House Leaders
Molly Charlton and Emerson MacDougall | Barry
Lauren Willis and Olivia Connelly | Dalton
Tayla Willoughby and Hayden Howard | Fitzpatrick
Grace Kemish and Jack Kirkwood | McAuley
Arts Leaders
Marianna De Tullio
Raffael Raschella
Olivia Sampson
Isabelle Stein
ISP Leaders
Januarius Lo
Khem Moolsarn
Nicole Tan
Luke Wang
Ivan Du
Samantha Chan
Year 10 Student Representatives
Angelle Miles
Ava Heggie
Benji Hughes
Charles Finnimore
Chloe Dowd
Claire Davies
Elka Briggs
Ellie Zizikos
Eugenia Fiocchini
Jordan Moulding
Kenisha MacDonald
Konrad Kawecki
Madeline Wyman
Nicholas Maney
Nishanth Adityaa Sivakumar
Rani Mulvaney
Sara Elleway
Violet Salvemini
Year 11 Student Representatives
Chloe Tarasenko
Lily Dyson
Lucia Fiocchini
Sannawar Sandhu
Sophia McArthur
Vaughn Brereton
Eamon Sibly
Year 12 Student Representatives
Maisie Aitken
Lachlan Scherer
Sienna James
Maximillian Damiani
William Griffin
Kyra Kerwin
Charles Tan
---
Year 12 Learning Reviews
As Term 1 draws to a close, it's timely to celebrate our achievements at our Learning Reviews that provide an opportunity for students, parents and teachers to discuss the approaches taken so far and map a plan for the weeks ahead.
By creating strategies to work toward improvements, we set everyone up for success. The weeks ahead are sure to be focused on improvement and we encourage all Year 12 students to maintain an their focus on learning.
Learning Review discussions for students, parents Years 6 – 11 early will take place early in Term 2.
---
Student Achievements
I've been impressed with the adaptability demonstrated by our students, including our Year 12s (pictured in their bespoke jumpers). This is the expectation that we established together in the first weeks, and it is with pride that I can report that students have worked collegially with their teachers. Both the SACE Board and the International Baccalaureate Organisation have made some adjustments to subject expectations, and I encourage you to be aware of these.
---
Thank you
Thank you to everyone who joined us for the Senior School BBQ, an excellent opportunity to catch-up informally at the college and take advantage of our beautiful view.
In wishing you all a happy and safe Easter on behalf of all Senior School educators, thank you to our students for your efforts this Term, see you in early May.
Michael Francis
Head of Senior School.
School photographs | order before 6 May 2022
Join our Craft Club
Like Ivy and Mikhail (Year 6, pictured) you can learn new skills, including how to sew. Neither had sewn before yet have achieved so much.
Junior School Craft Club | Monday, Art Room MB101, at lunchtime every even-numbered week during Term
Middle School Craft Club | Monday, Art Room D206, each odd-numbered week from 3.30-4.15pm during Term
Belinda Zieleniecki
Craft Club Coordinator
Feedback
We are committed to ensuring the Mercy Vine is an easy and pleasant experience for our readers. Please click here to provide us with your feedback.