Term 1, | Issue No. 3 - 13 April 2022
Middle School News
Middle marvels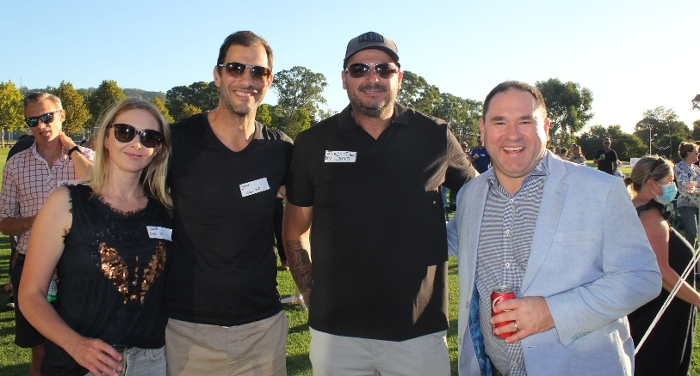 Firstyly, thanks to our Mercedes Parents and Friends Association for helping us host the Middle School BBQ. We all enjoyed meeting with Middle School families and engaging with the students in a relaxed and friendly atmosphere. The food was also sensational.
Caritas Day
Last Friday (8 April) was Caritas Day at Mercedes College, a day of giving, with our students expressing gratitude to those who have less than others, and playing their part in helping the vulnerable and those in need.
There were lots of great games and activities for students to participate in so that as a community we could raise money for Caritas Australia. The students set up stalls of delicious food, including a sausage sizzles, and lolly shop as well as small side shows that created a carnival like atmosphere.
As an extension, we also supported the critical work being done by Caritas Australia in helping those directly impacted by the conflict in Ukraine. Students and staff were able to show their support by giving a gold coin donation.
Student reflection
Caritas Day is an important time of the year when we can attend the school in casual clothes and, during lunch, we can create a stall to sell things to raise money for Caritas. We also really enjoy attending the stalls and seeing what the other year levels do to raise money. We love getting involved in the side shows like throwing a sponge at a teacher, or lucky dip and raffles are always on every year. Caritas Day is there to remind us that there are people much less fortunate than us and that there are things we can do to help them. It is a great reminder of us to have the capacity to make a little difference to other people's lives.
Freya McBryde and Grace Brereton 8TN
---
Learning Reviews
We acknowledge the primary role parents and families have in student learning and recognise them as valued partners. Our upcoming Learning Reviews are an opportunity for families to engage with us and ensure we're all enabling students to be their best.
Our first set of Learning Reviews are scheduled for Tuesday 10 May from 2pm to 7pm. Students will be dismissed at 1pm enabling teaching staff to meet with parents. Sessions for students in Years 6-11 are scheduled for Monday 16 May from 4pm to 7pm.
---
Winter Uniform
All students are expected to show pride in themselves and the college by meeting requirements relating to uniform and grooming. Self-respect is the first step towards mutual respect, one of our Mercy Keys and core values.
As Term 1 ends and the weather becomes cooler, we're reminding students and parents that the Winter Uniform needs to be worn from the start of Term 2, including the blazer to and from school.
Please ensure you have the required uniform and wear it proudly.
---
Middle School Assembly - Sports Day Results
Earlier this month, the Middle School held its second assembly to share the results of our recent 7-12 Athletics Carnival. Congratulations to Dalton who just edged out Barry to win by a handful of points. It was excellent to see the positive spirit amongst the students and the level of athletic talent at Mercedes is something special.
A number of excellent individual performances from our Middle School athletes are listed below. Congratulations on your achievements:
Age Champion
Yr 7 Girls: Saskia Kellaway
Runner Up: Edie Davies
Yr 7 Boys: Jared Cenko
Runner Up: Nicholas Hosford
Yr 8 Girls: Abbey Haskard, Stevie Sinel
Yr 8 Boys: Sebastian Nichols
Runner Up: Oliver Dixon
Yr 9 Girls: Charlotte Kroeger
Runner Up: Summer Hudswell
Yr 9 Boys: Christian Whitwell
Runner Up: Jon-Luc Catinari
Congratulations also to our Year 6s (pictured) for their achievements in the pool at the SAPSASA City South Swimming Carnival.
---
End of Term
It's been a busy term where we have all had to adapt to changing circumstances. Thank you to our families for your understanding as we've had to postpone several key events. We're very much looking forward to engaging in these many experiences as the year progresses.
Thank you also to our Middle School teachers for their exceptional work with our young people. I encourage Middle School students to reflect on their approach to learning and return from the term break refreshed and ready to continue their learning journey.
Wishing you a safe and relaxing easter and term break.
Ben Dray
Head of Middle School
School photographs | order before 6 May 2022
Join our Craft Club
Like Ivy and Mikhail (Year 6, pictured) you can learn new skills, including how to sew. Neither had sewn before yet have achieved so much.
Junior School Craft Club | Monday, Art Room MB101, at lunchtime every even-numbered week during Term
Middle School Craft Club | Monday, Art Room D206, each odd-numbered week from 3.30-4.15pm during Term
Belinda Zieleniecki
Craft Club Coordinator
Feedback
We are committed to ensuring the Mercy Vine is an easy and pleasant experience for our readers. Please click here to provide us with your feedback.