Term 1, | Issue No. 3 - 13 April 2022
From the Principal
Challenge grows confidence and resilience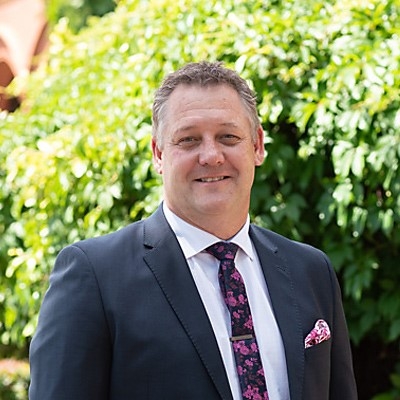 From the outset of 2022 we've all been working together to provide quality learning and continuity, and as we break to celebrate Easter it is clear our students are adaptive, our teaching practices are flexible and our families engaged in supporting the standard of teaching and learning synonymous with Mercedes College.
As we embraced the challenges of COVID-19 a number of our strategic priorities advanced this Term. Our number one goal of nurturing our students to flourish and reach their full potential has been furthered through considered and simple actions, including regular communication with students isolating or recovering from COVID-19. Thank you to our teachers, curriculum and year level leaders ensuring our students remain engaged in their learning.
I am thankful to the many and varied ways families have supported the College and their students whether it be through careful monitoring of health, vaccinations, the words of encouragement and support. or simply and powerfully, taking an interest in your child's learning.
Thank you to our team led by Deputy Principal Paul Wadsworth, responsible for our ongoing compliance with SA Health and Catholic Education SA directions and protocols including COVID-19 community notifications and contact tracing. A significant volume of work in addition to managing resources and fostering quality learning capability.
I am proud of how our team are working together and driving positive change by mainstreaming adaptive best teaching practices and refining our pastoral care to meet the needs of our students, including a consistent and disciplined use of ManageBac and SeeSaw to drive engagement. Essentially these learning management systems are central to learning continuity.
Under Paul's leadership, plans to meet teaching and learning needs in a variety of modes if and as required from Term 2 are in place, with flexibility and agility an accepted norm in our delivery of a contemporary education. While face-to-face is still the most powerful, and our preferred mode, our Learning Continuity Planning for Excellence caters for multiple modes. By continuing to invest effort in robust curriculum planning, our excellent learning programmes across the College will progress regardless of the delivery mode.
Behind the scenes our teaching staff have been developing our school wide approach by measuring progress and using data. Through this exploration we are extending our knowledge of student learning, academic performance, and attendance ultimately contributing to developing our young people to be their best. Our expert teachers, coordinators and heads of school are also reviewing and improving our wellbeing frameworks to make best better. I am confident our students will continue to be challenged by their learning and the broad range of experiences provided, as well as very well supported.
In the liturgical cycle of the church, Easter provides an opportunity to reflect on our own challenges and open ourselves to growth. Challenge helps grow student confidence to take on academic, social and physical challenges, that culminate in our well equipped graduates ready for life beyond our college gates.
To achieve this, we provide varied learning opportunities from Reception to Year 12, and as an International Baccalaureate World School we foster 10 learning attributes through a range of curriculum and co-curricular activities and events. This enables students to learn in different ways and beyond the classroom, as well as engage with important friend and family connections.
Great learners are risk-takers – an attribute we nurture – so that students can approach uncertainty with confidence, work independently, and be resourceful. Elise Fitzgerald (Year 11) is a talented artist who takes a risk and has a go. She has just illustrated a children's book, Gus the Southern Purple Spotted Gudgeon.
Written by Gerry McCarthy, the story is about a fish feared extinct, and will be a valuable learning resource for Middle School students. Linked to ACARA learning, children will be inspired to start their own ecological sustainability programmes. You can watch ABC's Landline to find out more.
Learning is about incremental improvement and building on the foundations set during early childhood. Experiences at home, with family and friends, and at school, all provide opportunity for learning. At Mercedes College we encourage all students to remain engaged in learning throughout life as they each pursue their interest, further their capability and gain fulfilment.
For each it will be something different, yet the common bond will be the values that underpin their learning: compassion, loyalty, justice, integrity, responsibility, mutual respect. For some success and achievement will be creative, for others academic, sporting or a blend. Whether it's classroom learning, camps, art rotations, reflection days, bike riding or dance, cooking, work experience, first aid training or community service, the opportunities are rich, and the rewards are great.
As we come to the end of Term 1, I encourage you to find out what interests your child, and what they love about school. For some it might be as simple as spending time with their friends, while for others it's quenching their thirst for knowledge. All are valid and valued.
With much to look forward to in Term 2 from Tuesday 3 May 2022, enjoy the break with my blessings for a happy and safe Easter.
Andrew Balkwill
Prinicpal
School photographs | order before 6 May 2022
Join our Craft Club
Like Ivy and Mikhail (Year 6, pictured) you can learn new skills, including how to sew. Neither had sewn before yet have achieved so much.
Junior School Craft Club | Monday, Art Room MB101, at lunchtime every even-numbered week during Term
Middle School Craft Club | Monday, Art Room D206, each odd-numbered week from 3.30-4.15pm during Term
Belinda Zieleniecki
Craft Club Coordinator
Feedback
We are committed to ensuring the Mercy Vine is an easy and pleasant experience for our readers. Please click here to provide us with your feedback.