Term 1, | Issue No. 3 - 13 April 2022
OooSHC!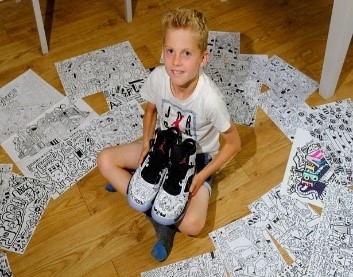 Don't you love the feeling of being so passionate about a subject that you want to shout it from the rooftops! This certainly applies to one of our educators, Lia Karabatsos, who is currently undertaking a vanguard internship at the Art Gallery of South Australia.
Lia, inspired by a current Yayoi Kusama exhibition called The Spirits of The Pumpkins Descended into the Heavens, sourced fabulous YouTube clips showcasing Kusama's work for us to watch. We discovered that Kusama is now 93 years old and still passionate about her artwork.
Lia also guided a small group of enthusiastic OSHC artists to produce their own interpretation of Kusama's work where the famous polka dots, pumpkins and mushrooms have been featured. This adds a sophisticated touch to our OSHC room.
In another clip, we learnt about 12-year-old Joe Whale (picutred), who has used his passion for doodling to earn himself a contract with sports giant Nike. Joe's as a 'co-creator' will be role model for other young kids, encouraging them to be creative and do what they love. This has been the key for him, with success finding the boy who frequently found himself in trouble for doodling in class!
And, in the OSHC room we are now counting the sleeps until the holidays and invite you to join us for a great Vacation Care experience. With some places available, please contact us to secure a booking.
Looking forward to seeing you in the holidays, and happy Easter.
Debbie Goss
OSHC Director
School photographs | order before 6 May 2022
Join our Craft Club
Like Ivy and Mikhail (Year 6, pictured) you can learn new skills, including how to sew. Neither had sewn before yet have achieved so much.
Junior School Craft Club | Monday, Art Room MB101, at lunchtime every even-numbered week during Term
Middle School Craft Club | Monday, Art Room D206, each odd-numbered week from 3.30-4.15pm during Term
Belinda Zieleniecki
Craft Club Coordinator
Feedback
We are committed to ensuring the Mercy Vine is an easy and pleasant experience for our readers. Please click here to provide us with your feedback.