Term 1, | Issue No. 3 - 13 April 2022
Music News
Instrumental success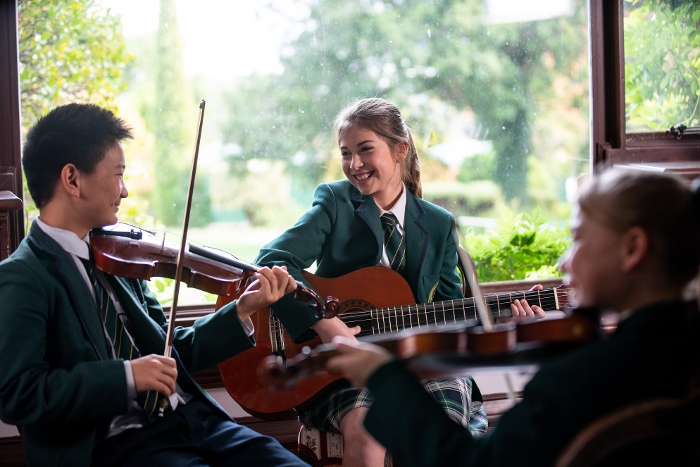 The Music Department is excited to announce the appointment of Robin Pratt, Director of Guitar and Ben Lainio, Director of Bands. Both Robin and Ben bring a wealth of expertise and experience to our ensembles. We have also welcomed 7 new instrumental tutors this year:

Michelle Maddaford - Flute
Lincoln Brady - Guitar
Patricia Heller - Piano
Jane Burgess - Piano
Jessica Liu - Piano
Carolyn Ferrie - Voice
Gianna Guttilla - Voice
Learning an instrument can be a rewarding experience however, the 'real magic' occurs when students participate in a band or choir. Aside from it being fun, it requires students to show commitment and work with people across Year levels and beyond their friendship groups.
There is also increasing evidence that playing music with other people has profound effects on our brain development. This is what makes music education, and importantly playing in an ensemble (including singing in a choir) a valuable investment for everyone.
Being part of a music ensemble targets a student's ability to develop their musicality – that is playing in time with the correct pitch and rhythm – and work within a team environment, constantly listening to themselves and what is going on within the group.
A growing number of studies suggest music-making provides far reaching neurological effects; developing our working memory, strengthening the neural pathways within the different areas of our brain and developing pro-social behaviours including empathy and team work. Engaging with regular music learning also targets the reward centre of our brain and is thought to assist with mood regulation.
Everyone benefits from learning an instrument and being part of an ensemble. Just like it is widely accepted that regular physical activity is important to keep our body healthy, regular music activity is important for a healthy brain and has a range of positive effects that benefit our mood and how we learn. It is never too late to start learning an instrument so please get in touch if you'd like to join the fun.
You can also learn more about the positive effects music education has when we welcome Dr Anita Collins, founder of Bigger Better Brains, on Wednesday 25 May for a parent information session. Please put this date in your diary – it promises to be insightful.
---
Student achievement
Congratulations to Alexandra Pink-Cook (Year 8), for receiving the Speech and Drama Grade 5 Prize, recognising her outstanding 2021 examination effort.Student achievement
Nicole Moxham
Instrumental Music Programme Coordinator R-12
and
Lauren Vilanova
CEA Music Coordinator R-12
School photographs | order before 6 May 2022
Join our Craft Club
Like Ivy and Mikhail (Year 6, pictured) you can learn new skills, including how to sew. Neither had sewn before yet have achieved so much.
Junior School Craft Club | Monday, Art Room MB101, at lunchtime every even-numbered week during Term
Middle School Craft Club | Monday, Art Room D206, each odd-numbered week from 3.30-4.15pm during Term
Belinda Zieleniecki
Craft Club Coordinator
Feedback
We are committed to ensuring the Mercy Vine is an easy and pleasant experience for our readers. Please click here to provide us with your feedback.