Term 3 Issue No. 2 - September 2

From the Director of Mission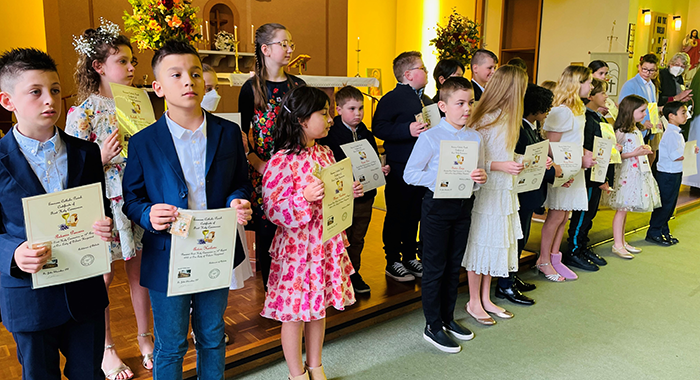 Religious Education across campus
Holy Communion, First Nations culture, and reflections.
Sacrament News
Congratulations to all families and students who received their First Holy Communion this year. As a College we are very lucky to have strong affiliation with the Emmaus Parish, and St Paul of the Cross, both of which have a wonderful Sacrament Program helping families prepare their spiritual journey. We look forward to acknowledging all of these students at assembly later in the Term.
If you would like to enrol your child into the Emmaus Sacrament Program for 2023, please collect a printed copy from Strathspey Reception or message me on SEQTA direqt message.
Teresa Pepicelli
Religious Education Coordinator R-5
---
Welcome to Community
Niina Marni; greetings!
Year 12 Religion Studies students enjoyed visits from two inspirational guest speakers, Senior Kaurna Man Uncle Mickey Kumatpi O'Brien, and Old Scholar Liesl Von Der Borch, who works at Ngutu College at Woodville with many Kaurna cultural educators across Adelaide.
Our guests offered fresh, authentic, contemporary, and historical insights to inform the students for their Folio 2 assessment task about Australian Indigenous Spirituality.
Student reflections:
"Uncle Mickey O'Brien's sharing of the traditional Kaurna culture was accompanied by an extremely reverent atmosphere from students and teachers. Uncle Mickey took his time with his presentation, explaining the traditions, practices, and overall culture, with several activities involving students. His presentation will no doubt prove to be an invaluable resource for all the students for their current task addressing Indigenous Spirituality."
Jake Tipper
"The year 12 Religion Studies classes were fortunate to have guest speaker and Mercedes Old Scholar, Liesl Von Der Borch speak about Indigenous spirituality for our Religion assignment. It was very interesting and inspirational to hear about indigenous culture and it will certainly help with our assignment. Thank you, Liesel for giving back to the Mercedes College Community."
Lara Fox
"I am so grateful for the experience of listening to Mickey O'Brien share his wisdom and culture with us. It was a wonderful opportunity enabling me to further learn about the importance of Aboriginal Spirituality and understand how vital it is to listen to the voices of First Nations people. Thank you."
Marianna De Tulio
Wishing all 2022 Year 12 Religion Studies students every blessing as they complete their remaining assessment tasks, and thank you for your energy and engagement in learning.
Peace
Helen Ayliffe
10-12 LAL RELIGIOUS EDUCATION
---
Year 6 Reflection Day
"The simplest and most practical lesson I know is to resolve to be good today but better tomorrow"
Catherine McAuley.
Our Year 6 students walked to The Monastery for a day of reflection and contemplation. Student focus, led by year level leader David Carosi, was on positive relationships and having a positive mindset. With this in mind, students creatively painted pebbles with words and symbols of faith, love, and gratitude.
Explorations of the Good Samaritan parable, as well as Jesus' example of washing the feet of his disciples, were part of our reflection time. Students looked at what these messages mean in today's world, and how we can be loving, non-judgemental, and positive people in a complicated world. Students interacted beautifully and took the time to hang out with their cohort in a different, very positive environment.
Looking forward, our musicians, singers, linguists, and dancers are preparing for a wonderful Mercy Day Mass at the College on Fridy 30 September and I look forward to sharing that experience with you in the next Mercy Vine.
Blessings
Therese Wilson
Director of Mission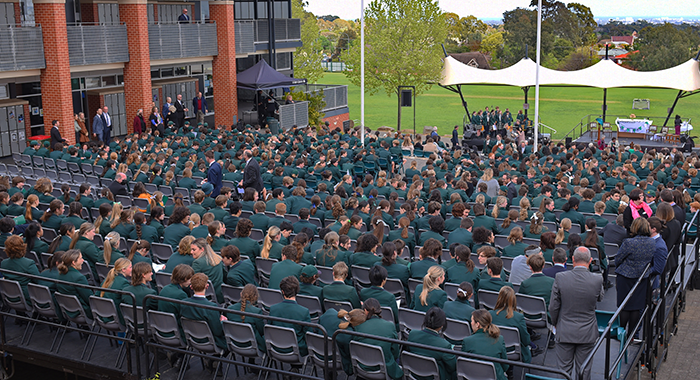 Limited time to nominate for the 2022 Mercy Award
Nominations close on Monday 5 September.
At Mercedes College we are a values-driven, Catholic community, where we actively live the Mercy Keys of –
Compassion
Loyalty
Justice
Integrity
Responsibility, and
Mutual respect.
Our Mercy Keys are the values that guide who we are, and every year we recognise a community member with a Mercy Award.
Each Mercy Award acknowledges an individual (excluding students), or family, who has made a difference in the lives within their local community, nationally, or internationally.
They demonstrate respect and compassion for others, show loyalty, lead with responsibility, are just, and have integrity.
Previous recipients include Old Scholars, staff and parents, as well as friends of Mercedes College.
It's now time to nominate someone you believe worthy of the 2022 Mercy Award.
Nominating is easy – simply tell us who you think best lives our Mercy Keys, before 9am, Monday 5 September 2022.
Mercy Awards are bestowed on Mercy Day, and we look forward to announcing the 2022 Mercy Award recipient on Friday 30 September 2022.
Blessings
Therese Wilson
Director of Mission
IN THIS ISSUE
Monday 26 September | Beginning of Mercy Week
Friday 30 September | Mercy Day Mass
Feedback
We are committed to ensuring the Mercy Vine is an easy and pleasant experience for our readers. Please click here to provide us with your feedback.