Term 1 | Issue No. 3 - April 13

News
Artistic inspiration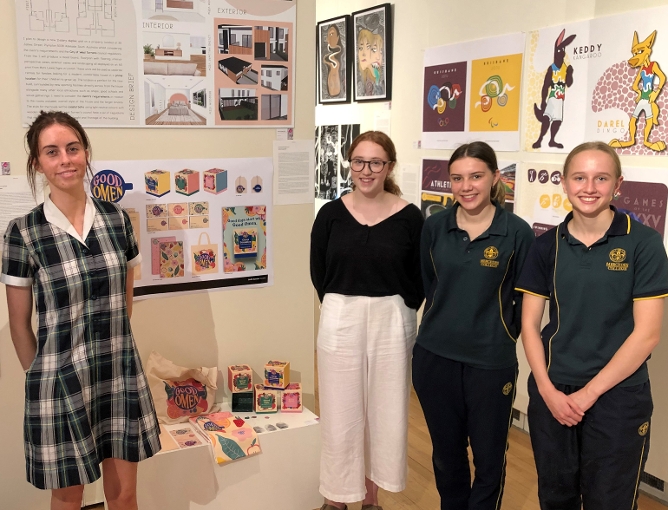 SACE Year 11 and 12 Art and Design students visited the SACE Art Show this Term, and loved seeing the work of Rosie Golding (Class of 2021) exhibited. Rosie is now studying a Bachelor of Visual Communication at the University of South Australia.

Pictured with Rosie Golding (Good Omen Tea Branding / Packaging) are Liv Pike, Abigail Paterson, and Elise Fitzgerald.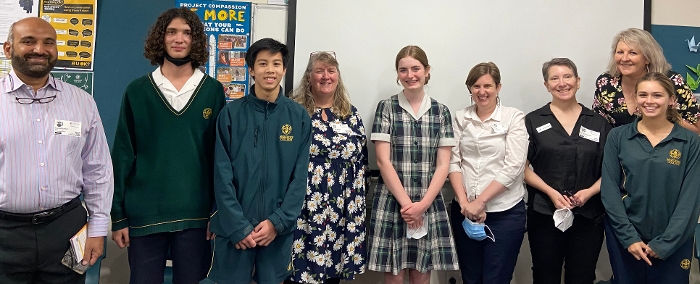 BIG ideas
These big ideas are, by definition, big, and encompass themes, issues, concepts that provoke thought and invite inquiry into the key beliefs, values and practices. The ideas build agency in the students by enabling them to take charge of their learning.
In this course, rather than the teacher impart knowledge on the students, they journey with them as students seek answers to their big questions. The students are responsible for the direction their learning takes and how they choose to express their understanding of spirituality, religion and meaning.
During the course of the year, students will be engaging with the big ideas of 'Community, Justice and Diversity', 'Evil and Suffering' and 'Religions, Spiritualities and Ultimate Questions'.
Excited by the opportunity, students will explore ideas from the perspectives of different religions and nationalities, grappling with the similarities between religions that stem from our common humanity and our responsibility as spiritual beings from wide ranging beliefs to strive for a better world.
Students will also have opportunity to explore their own perspectives on spirituality through community engagement by planning and applying their own initiative designed to generate transformative social change (action), or call others to action (advocacy), based on spiritual and/or religious values. This provides students the opportunity to explore and live an expression of spirituality and reflect on religion and spirituality as motivators for social action.
---
Spiritualities, Religion and Meaning
This year, the Year 11 cohort have been actively engaged in the new Stage 1 SACE course, Spiritualities, Religion and Meaning, or SRM, which replaces our former Religion Studies program.
Are you familiar with the Golden Rule, expressed in the gospels, 'In everything, do to others what you would have them do to you', (Matthew 7:12) and, 'Do to others as you would have them do to you', (Luke 6:31)?
These ethical principles for right and just conduct are among some of the most-quoted phrases in literature and popular culture. We invited our own staff member, Dr. Patrick Lim, to address classes, sharing his Chinese Buddhist faith experiences with us. This was very enlightening.
During Harmony Week this term, we welcomed community friend, Rachel Gillespie and her team of multi-faith educators from the Abrahamic Institute of Peace to help us delve deeper into understandings of theory, practice and artworks of the Golden Rule. With current Covid-safe protocols in place, our visitors were able to present in one space, and through MS Teams technology, they were 'televised' to separate classrooms to engage in interfaith dialogue. A wonderful afternoon of sharing stories and lived experiences ensued, culminating in a values walk continuum in our beautiful Rose Garden grounds.
Here are some student reflections from the day.
On Wednesday, during Harmony week, guest speakers from the Abrahamic Institute for Peace came into our school and shared with the Year 11 cohort all about The Golden Rule and the faiths that each speaker belongs to. I learnt a lot about the Jewish, Christian, Muslim faith and more. The speakers shared how their faiths use The Golden Rule and I believe learning these new insights will assist me in writing my assignment on The Golden Rule.
Esme Kitching
In March, our year level cohort held a seminar for the members of the Abrahamic Institute, whose website on the Golden Rule, we've been using recently as a part of our religion assignment. The purpose of this day was to be given insight directly from the sources of the website we have been using. This day was important in giving us personal perspective on these religions and the members that are apart of them. I was unsure what to expect exactly when the day came as I had never been a part of something like this before. I was pleasantly surprised to be met with a group of people introducing and explaining their cultures and how it's influenced their lives. Some major takeaways from this day was learning about the cultures that were very different from mine i.e. the Muslim and Jewish perspectives, alongside the perspective of the woman who chose Christianity rather than being raised with it.
Eloise Perin
The purpose of the day was to spread awareness and knowledge, regarding Abrahamic faiths, and their practices. It was a good way to break up the content and learn from primary sources, such information we cannot access online. I took away from seminar day, the perspective of a Muslim educator, Faisal, and the principles he believes in. I also learnt more about the Golden Rule from Rachel Gillespie, the director of the Abrahamic Institute for Peace, particularly where and how we should apply the rule to our everyday lives.
Angelina Knight
The purpose of the day was to detail the different ideologies of religions, especially surrounding the Golden Rule. It is important that visits like these occur as it provides different outlooks and provides life lessons, from people that would not regularly be interacted with in our community. Coming into the day, my expectations of this were uncertain, as I was not sure if I would be interested at all. However at the end of the day these were met especially in the rose garden values walk exercise, which I quite enjoyed. Before the assessment task and seminar day, we knew what the golden rule was and its basic principle, but the task and seminar day helped to elaborate and give us more depth on the importance of the golden rule, and the faiths surrounding it. Takeaways I have gained from this would include, make sure to be kind to others, that most religions have similar ideology, and that we are all part of the same race. 
Joshua Brown + Matthew Ziesing.
As you walk in the footsteps of Jesus this Palm Sunday, which heralds Holy Week, go gently, go in peace. Be well.
Ben Price and Helen Ayliffe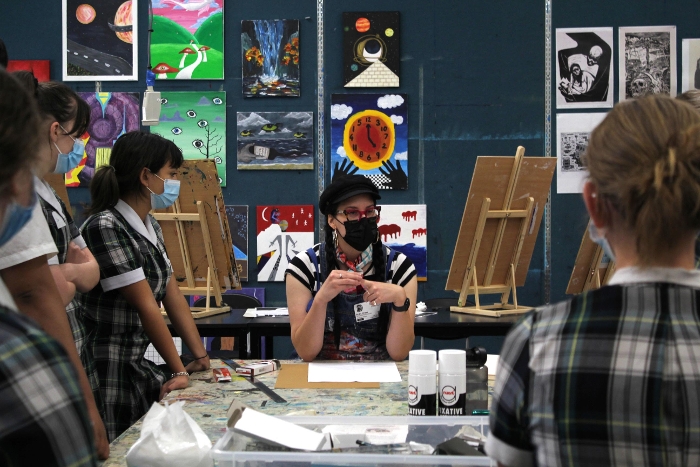 Creating with Ruby Chew
Ruby is well known for her realistic oil portraits with bright patterned backgrounds.
Ruby taught the students how to approach self-portraiture, using a range of techniques and materials. The students spent the whole day applying the techniques to their own self-portraits. The students enjoyed the opportunity to have the full day to immerse themselves in their work.
Lisa Coultas
Visual Art Teacher
What to wear in Term 2
The blazer is compulsory and must be worn as the outer garment to and from campus, whiile the jumper may only be worn as an outer garment once inside our grounds.
Students must wear their formal school uniform unless they have a practical PE lesson scheduled.
Uniform requirements are onilne and you can also find these on SEQTA Engage (Family Portals > Key Parent Resources).
Students with sport training before and / or after school need to change and wear their formal winter uniform for the school day, unless they have a scheduled practical PE lesson.
There is plenty of time between training sessions to change.
School photographs | order before 6 May 2022
Join our Craft Club
Like Ivy and Mikhail (Year 6, pictured) you can learn new skills, including how to sew. Neither had sewn before yet have achieved so much.
Junior School Craft Club | Monday, Art Room MB101, at lunchtime every even-numbered week during Term
Middle School Craft Club | Monday, Art Room D206, each odd-numbered week from 3.30-4.15pm during Term
Belinda Zieleniecki
Craft Club Coordinator
Feedback
We are committed to ensuring the Mercy Vine is an easy and pleasant experience for our readers. Please click here to provide us with your feedback.